By: Funny Or Die
Guess Who's Back, Back Again
Jake is basically a goon for poon. We flew into State College, PA last night and I decided to turn in early to get some beauty rest. I need at least 14 hours a night if I want to look even halfway decent. On days when I need to look like a real fancy beauty queen type, I need between 20 and 22 hours.
Jake, however, did not turn early; instead, he went hunting and, I am told, ended up with something like five beavers in his room last night. I would feel bad for referring to women as beavers but honestly these ladies are kind of asking for it at this point. I mean, Jake sneezes and they drop their panties so clearly a shout out in the blog is just icing on the cake for them.
Anyway, State College is really pretty ' there 's lots of snow on the ground. It 's also really cold ' something like 14 degrees for the high today. We 're in rehearsal right now and I think everyone is a little tired but also glad to be together again. I mean, just look how happy Zach and Will look here:
And this is the happiest I have seen Andrea look on the whole tour: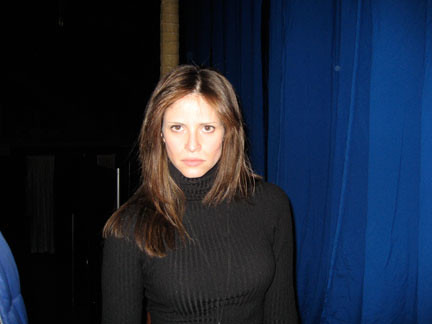 McKay had to stay in LA for this leg of the tour for work and while he will be missed we 're super excited to have Will Arnett out on the road with us acting as the show 's MC. Here 's Will rehearsing today:
And here 's Will hitting on me about two seconds later: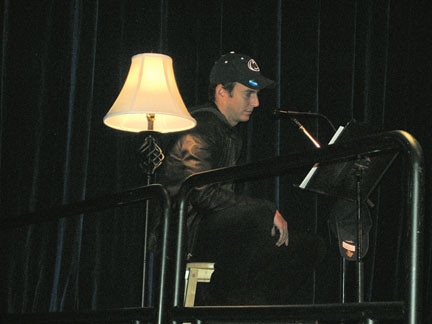 Basically, Will Arnett is all about me. Let 's just say it 's a good thing I only got 14 hours of sleep or I 'd really have my hands full fending him off.
–Amy, aka Pickles (Henchy gave me the nickname last night, it 's sticking.)