By: Eric Appel
Funny or Die had the privelage of attending this year's San Diego Comic Con. ' It was such a fun time! ' Here are a few of my pictures from the awesome weekend…
I met "Wolf" from American Gladiators and told him we were "beard buddies." ' He just stared at me for a second and then cross checked me into the LEGO Batman display.
Jon, Brett and I were looking for a new recruit for our sketch group, "Weekend Warriors ," and I'm happy to say that we DID NOT find one at Comic Con. Jon and Brett crashed with this guy on Saturday night though. When I went to pick them up the next morning, they were both curled up in fetal positions, soaking wet and weeping in the bottom of the hotel room shower.
Jabba the Hut raped me 30 seconds after this picture was taken. God, I looked so happy and innocent.
…That was really hard for me to type just now.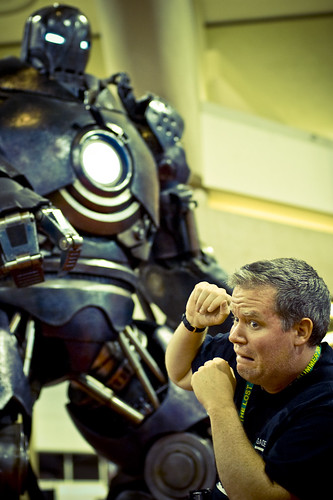 Sadly, Owen Burke was killed by Obadiah Stane 's power suit on Sunday morning. ' We'll miss him the most.
Jar Jar was at Comic Con this year as well, only he wasn't allowed in. That guy really fell off after the Phantom Menace backlash. He looked like shit and smelled like the inside of a dead shark. Here's the footage.
On the drive home, we robbed Jack McBrayer robbed several gas stations along the highway. We almost made it all the way home, scott free, until Seth Jack McBrayer was captured by authorities and thrown in a Chino prison.
All in all, we had a blast! '
We also shot some great videos with Tom Lennon and Ben Garant (Reno 911, The State), the first of which you can check out HERE , and if you like it, stay tuned for our special Star Wars themed sequel.
See you at next year's Con!