By: Dan Abramson
The 9 Stupidest Things Americans Believe
Obama's A Muslim
According to the Pew Research Center, 18% of Americans believe Obama is a Muslim. Most likely, the same people also hate Muslims. Put it together, and there's a chance that one in five Americans hate our President because of his supposed religion.
---
Moon Landing Was A Hoax
A huge number of Americans believe that the moon landing was staged. Aside from the sheer stupidity of that, it raises a bigger question: If it was faked, how would Buzz Aldrin be bedding lady space groupie after space groupie if he hadn't actually been on the moon? He would not. Thus, real.
---
Sun Revolves Around The Earth
I know Americans have a tendency to be a bit self-involved, but this is a bit much. According to a Gallup poll in 1999, 18% believed that the earth was the center of the universe. On a side note, 3% said "no opinion." Those folks could not be bothered with such pedestrian quandaries.
Oh, and for those 18% who believe this, that picture is Galileo. That guy knew his shit.
---
Ghosts Are The Real Deal
One in three Americans believe in Ghosts. All Americans believe in Ghost. Both have no business existing.
---
Dinosaurs and Humans, BFFs
As of a couple years ago, nearly one-third of Texans believed that dinosaurs and humans roamed the earth at the same time. Yup. Oh, and at least one Alaskan, as well.
---
Evolution? That's A Bit Of A Stretch
A 2004 study showed that 51% of Americans believed in Creationism. Over half of the people in this country thought humans just showed up one day and were ready for homeschooling.
---
Environmentalists Intentionally Caused The Oil Spill
So you know that oil spill that ruined the ocean, killed thousands of animals, and pretty much brought the country to a standstill? Environmentalists fault. It's so obvious, I can't believe only 10% believe this. To save what you love, you must sacrifice it. Those sick bastards.
---
The Existence of Aliens
It's an old study, but not much has changed since 1999 in regard our nation's knowledge of Alien life forms. And that's unfortunate, as 80% of Americans believe the country's keeping something under wraps in Roswell. Actually puts the rest of the list in perspective, doesn't it?
---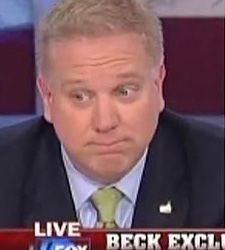 Fox News Most Trusted Channel In News
Over half are convinced of this. Well, after that aliens stat, you can't be that shocked.
---