By: Dan Abramson
NFL Week 9 Recap: The Cowboys Are Now A Fake Team
Little late this week. I know you've all been anxiously waiting. "What, no NFL recap? What kind of comedy video site is this????" So I'm sorry. But here goes.
Now, if I had been on time, I would have addressed the fact that Wade Phillips will likely be fired. BUT since it's now Tuesday afternoon, we know that Wade Phillips has in fact been fired.
This is not groundbreaking news. No matter how much ESPN wants to promote it on their front page with headlines like "People will Suffer."
Let's settle down, ESPN. Don't Favre this up. (To Favre: to beat a story into the ground while taking dick pics) This was move was a long time coming. The Cowboys are now a fake team, and Jerry Jones is now a star of Entourage. This was bound to happen.
And while I don't think Wade Phillips is an ineffective coach, he certainly didn't do himself any favors. A quick google image search of Phillips yields dozens of images of him
eating party subs by himself
hiding behind his hand in shame. That's not the demeanor of someone who instills confidence in his players.
Anyway, the Cowboys aren't the only team who sucks. The Panthers. They suck. The Bills 'they're the worst. Which leads me to '
"This Week in the Bills are the F–king Worst." If you had to guess what the Bills did this week, you'd probably say "Oh, I didn't know Buffalo still fielded a team. Are they the worst?" And you'd be right! They are! And as the worst, they continued to be the only team yet to win a game this year.
But in what's clearly an attempt to distract from their heartbreaking terribleness, the team made headlines when they signed formerly talented linebacker Shawn Merriman. Said Bills linebacker Paul Posluzny of the signing: "We're really excited to get him here, get him acclimated to our way of doing things." He went on to add "You know, coach really stresses not tackling the other guys and throwing interceptions in opportune moments. Hopefully Shawn's a quick study."
So we all know Bill Belichick's a dick. Some things are facts and do not need further explanation. But sometimes, just sometimes, they need a visual representation. So here is the picture of the post-game handshake after his former disciple Eric Mangini defeated his Patriots.
So there was a Favre sighting in Minnesota this week. And no, I don't mean his penis was spotted at the local Chic-fil-A. Sorry, totally Favre-ing it over here. But the guy showed up to play, like the Favre of old, throwing for a career high 446 yards in leading his team to victory.
So it looks like the Giants are for real. The 41-7 shellacking of Seattle cements them as a real contender in NFC. The scary thing is that Eli Manning is looking more and more like a legit quarterback, rather than a child who doesn't have enough tokens for the batting cages. And next week they face the Cowboys, who as we've discussed, are bordering on being a fake team. I propose the Cowboys post this sign around town and hope Eli falls for it.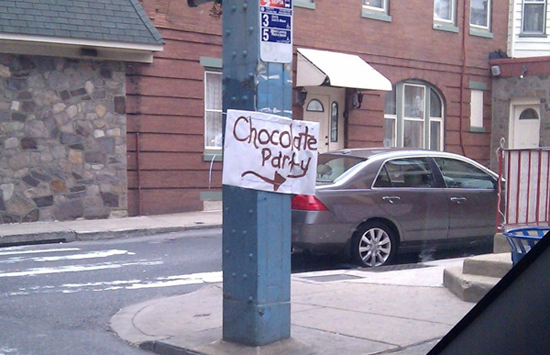 The Broncos had the week off, which gave Tim Tebow the opportunity to announce that he'll be writing an inspirational memoir. This is fantastic news for everyone anxiously awaiting Jesus' autobiography.
Phillip Rivers deserves our respect. His receivers keep going down with injuries and he keeps tearing apart secondaries. The guy's literally playing with a bunch of replacement players. Though to be fair, this week it was against the Houston defense, who no matter who they face, act like they're starting the opposing team's quarterback in fantasy football.
Okay. That's it. I know there was plenty I didn't get to, but there's only so much time. Bah. Fiiine. Here's a quick rundown of everything else.
Vick's back. No dogs were hurt in the filming of their victory.
Oakland is finally relevant again. When asked about his team's turnaround, owner Al Davis removed his black hood, put down his scythe, and acted like that was a totally normal thing.
Jets won. And when the Jets win, Mark Sanchez is happy. And a happy Mark Sanchez is a sexy Mark Sanchez.
Steelers won. And when the Steelers win, Ben Roethlisberger is happy. And a happy Ben Roethlisberger is a horny Ben Roethlisberger. Luckily, he's a guy who has no problem getting girls. None. at. all.