By: Dan Abramson
NFL Week 14 Recap: RIP Brett Favre
Just wanted to get that out of the way. I missed last week's NFL Recap. You know, because was SUPER BUSY putting invisible dicks in politicians mouths. It happens. And I apologize. But to make up for it, I will spend wayyy too much time talking about Brett Favre. Because that's what people who write about sports do. It's clearly a requirement when you decide to put words in a certain sequence for the purpose of discussing athletic competition.
But I won't just launch right into it. No sir. I've got a fancy segue that will totally blow your mind. Here goes:
So if you were reading these recaps back in its infancy, you'll remember that I would regularly have a section called "This Week in the Bills are the F–king Worst." And considering they were in fact the absolute worst, it was a fitting feature. But since they've turned their season around, we had to say goodbye that section. And in its place, for likely the only time ever, here's the brand new section: This Week in the Bills are the F–king Best.
The reason why they're the best? Not because they toppled Jake Delhomme and the mighty Cleveland Browns. Nope. But because last week, in their loss to the Vikings, linebacker Arthur Moats severely injured Brett Favre, ending his streak of consecutive starts at 297games, and likely his career.
Here's Moats being the best:
You'll be throwing interceptions to the angels, now.
But the reason why I congratulate the Bills on this is not because I hate Favre and am tired of his antics. In fact it's the opposite. Finally, we can stop being annoyed at the guy and celebrate him for the legend that he is. Favre played the game the way we all did when we were kids — chucking it as far as we could, improvising in the backfield, holding our families hostage as they chatted with Grandma (the media) about whether or not we'd play one more season.
Also, as much as we shit on Favre for wanting to play just to keep his streak alive, and ultimately hurting the Vikings in the process, did anyone see Tavaris Jackson last night? Oh boy. That was brutal. Remember that scene in Necessary Roughness when they pulled Scott Bakula? Of course you do. That movie's awesome. Anyway, and the backup quarterback comes in, takes a snap, and then immediately runs toward the official screaming "Blow the whistle, Blow the whistle!" That's what Tavaris Jackson looked like Monday night. In many ways it actually made me appreciate Scott Bakula Favre more. Even playing hurt, the guy could've been out there, taking pictures of dick in the middle of a play and then and showing it to the guys in the huddle ("This is my dick making a shovel pass to nobody") and he would've outplayed Tavaris Jackson.
Instead, Favre was spotted on the sideline with a purple hand. It looked like he just used Prince as a puppet. It was gross.
So despite the fact that the Vikings will likely trot him out for the last game for a final farewell, we can safely say 'RIP Brett Favre.
Oh, one more thing. So before the Vikings could lose to the Giants in Detroit, the roof collapsed in the Metrodome. Here's the footage. The awesome awesome footage.
Yes! Sure it sucks that some guy will have to fix this (way to to know how stadium maintenance works, Dan), but that was amazing. I can't help but think this is actually footage from some sci-fi apocalypse movie and that any second, it'll be cutting to this:
And while yes, I know this footage more resembles a movie like The Day After Tomorrow, I will ignore that fact simply so I can post this picture:
I'd like to throw this scenario out there: What if the snowstorm didn't come until 12 hours later (or whatever, I'm not a mathematician/meteorologist/someone who can check records) and the Vikings and Giants played the game in Minnesota. AND Brett Favre started. THEN, the roof collapsed. Right on Brett Favre. I'm not wishing his death here. Don't get me wrong. But how fucked up would that have been if there was all this build up to whether or not Favre would start, only for him die in the middle of the game because thousands of pounds of NATURE CRUSHED HIM. Wow. Sorry for getting dark there. But c'mon. Think about his legacy!
Anyway, that ends the Favre section of the recap. And if I continue with the detail that I dedicated to one guy, this recap will take forever. I'll make the rest quick.
I'm really glad the Jets suck again. Seriously. After going 9-7 last year, for some reason everyone anointed them Super Bowl champions. That's great. But the Saints won the Super Bowl. We all saw Drew Brees hold a baby, didn't we? Not Rex Ryan. Rex Ryan's not allowed near children.
And not only do they suck, but in their loss to the Dolphins, they proved themselves to be bush league assholes, as one of their coaches purposely tripped a Miami player as he ran up the sidelines.
"Way to use 'Bush League' in the context of sports. Next time you're upset with someone, you should call them a 'bum.' That's how you properly critique players who are not living up to their contracts."
-My Dad after reading this.
Here's the pic of conditioning coach Sal Alosi right before he was suspended:
Mark Sanchez looked especially bad during the game, which is not how good-looking quarterbacks are supposed to perform. And speaking of good looking quarterbacks '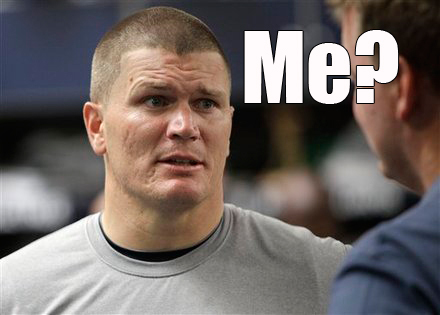 Haha. No no Jon Kitna. Not you. I didn't say "Speaking of quarterbacks who constantly look like someone's licking their asshole." I said "good-looking." And Tom Brady is back to playing like the dreamy QB that won many people's fantasy leagues ies a couple years back.
Playing in the snow, Brady tore through the Bears on his way to 369 yards and two touchdowns. The Patriots dominating is actually somewhat comforting. I get weirded out when I can't wake up and hate Bill Belichick.
Okay, this has gone on long enough. Let's wrap it up.
The Texans lost to the Ravens in overtime. Not because Matt Schaub threw a pick-six at the end, but because they for some reason decided to play in pajamas that children wear on Christmas morning:
The Falcons continued to have the best record in the league despite the fact that nobody seems to give a shit. Congrats Matt Ryan. You've successfully led an offense that has scored more points than the Saints, who get more more media attention than you'll ever ever know. Speaking of which, here's the aforementioned Drew Brees and his baby. Aww, that's what a champion looks like.
Alright, I'm sure there's plenty that happened that I did not cover. But this has gotten wayyyy to long. It's Favre's fault. But that's a good thing. Let's celebrate the legend that he is.