By: Dan Abramson
NFL Week 15 Recap: Blah Blah Vick. Blah Blah Favre. Is the Season Over Yet?
Full disclosure. I spent this Sunday at my Grandma's house and was unable to watch any games. I know, I know. If I'm gonna write a weekly NFL Recap, the least I could do is watch the NFL. Don't worry, guys, I tried my best to reenact those Sprint commercials. You know, the ones where the guy is checking scores on my phone while at a wedding only to get caught by his way-too-good-for-him girlfriend. It was exactly like that. Just replace "wedding" with "Family Hanukkah Party even though Hanukkah ended a week earlier" and "girlfriend" with "grandma's live-in nurse."
Anyway, here's my dedication to this post. My Grandma is out of money and losing her house. Totally true. Sorry to get so real on you. It was the last family gathering at the house I so closely associate with my childhood and I STILL ignored her and relatives (who I genuinely care about) to check scores on my phone. And on top of that, my Grandma has no idea she's out of money and losing the house. It was awkward. Hopefully she's not reading this. That lady loves the internet! When she sends me emails, she's all "I already made the brisket for next year's Passover so I'll put it in the freezer for 6 months LOLOLOLOL." Just kidding. She doesn't know what the internet is and has no idea what I do for a living, as long as I say "yes" when she repeatedly asks me if I'm happy.
Okay, my weird grandma issues aside, plenty happened in the NFL this week. And I'm here to talk about them.
Let's get it out the way. Game of the week: Giants-Eagles. Did you see this!?!?!?!?!? I didn't. Can someone tell me what happened? I tried reading reading about it, but I don't know what to believe since coming across Monday's issue of the New York Post. This completely real.
Okay, so what I can gather is simply that the New York Post has no shame. None. But at least they're nailing the terrible puns. "Jets 'STEEL' One." I get it; you think we're idiots and will eat that shit up. You are correct. But you are also the worst. The other thing I gathered is that Vick did something amazing. Because that's what we've come to expect. Apparently, he led the Eagles as they scored four touchdowns in the final eight minutes to pull off the dramatic comeback in this NFC East showdown.
Giants coach Tom Coughlin was available for comment after the game:
Back to Vick for a sec. If you haven't heard, the guy came out last week and said he'd like to get a new dog. Okay, Michael Vick. It's real talk time. You and me '.No, Michael, no! That's a bad Michael! Don't make me rub your nose in the last dog you had electrocuted to make you learn your lesson. Listen, you don't get a second chance on this. You're the most famous dogfighter that's ever lived. I dare anyone to name a single other dogfighter. They can't. You're the face of it and now you're saying you want a NEW DOG. That's not how this works. Just follow the leads of other former NFL greats. Can you imagine if this happened?
Nope. Even O.J. knows better. Even Ben Roethlisberger is not going around saying he needs to get laid.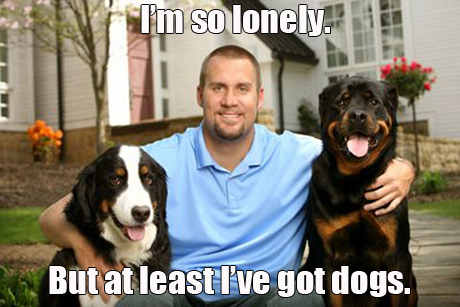 Speaking of Ben and the Steelers. They fell to the Jets. Or did the Jet's steel one?????? Fuck you, New York Post. I really don't know what to think of the Jets anymore. I want them to fail because they have male models at quarterback and coach. Just kidding. Mark Sanchez is a total woof. Just kidding again. Sorry in advance for the following Rex Ryan photoshop work, but…
The Jets are kind of like the poor man's Patriots. Pretty quarterback; hard to look at, potentially unethical coach. The Jets are like the Skeet Ulrich to the Patriot's Johnny Depp. Or the Cuba Gooding to the Patriot's Omar Gooding. Either way, it's nice to see the Patriots lead the charge in teams you want to hate as they spoiled Matt Flynn's surprisingly great play in Aaron Rodgers' absence.
The Colts are playing well, too. Looking forward to the standard Patriots-Colts playoff game that always restores order to the universe. And that announcers react to like it's the first time it's ever happened.
So last week I proudly announced that Favre had died and was throwing interceptions to the angels now. But since it's Favre and the guy plays by his own rules, he started Monday night against the Bears, who promptly concussed him and danced all over his grave. That's what you get for playing for pride, Brett Favre. Let that be a lesson to you.
Who else got hurt this week? Terrell Owens. Done for the season. Good. I've got thirty hours of "The T.O. Show" to never watch ever and I can't waste time following him in real life, too.
Just want to go back to the Vikings game for a sec. Dan Hopper over at Best Week Ever caught this overly optimistic sign, referring to 3rd-string Vikings QB Joe Webb who filled in for the fallen Favre.
Haha. Minnesota. That's cute that you had a typo on your hand-written sign because there's no way your logic is that terrible.
The Bills won again! Yayyyy! Nobody cares but me. I'm okay with that. Just know that I'll have no sympathy for you when you talk about your team blowing it. The Bills are the best at crushing your spirits. Always will be. I fully expect Buffalo to cancel Christmas because Scott Norwood stole all the children's presents.
I feel bad for Donovan McNabb. His replacement is someone named Sexy Rexy. And Sexy Rexy totally outplayed McNabb in the Redskins' loss to Dallas. I fully expect McNabb to star in a Darren Aronofsky movie where someone's stapling his face and he's referring to himself as a broken down piece of meat.
Tim Tebow drew the start for Denver on Sunday as the Broncos fell to the feisty Oakland Raiders. Sunday is God's off, Broncos. Let that be a lesson to you.
Blah blah blah the Falcons are good. Boring.
Blah blah blah the NFC West may be won by a small child seen throwing a football up and down outside the 49ers game.
Blah blah blah Matt Cassel played football without an appendix.
Blah blah blah is this season over yet?