By: Chase Bernstein
7 Reasons We're STILL Watching Entourage
Chivalreaaaally?
'??My mom, aunt and grandma raised me- I guess that '??s why I respect women so much. (Beat) Anyways, do you wanna grab a drink and fuuuuuck? No?- you just want to do your job? But you '??re a beautiful woman '? ' (mind explodes) DAMNIT TURTLE I LOVE HER."
---
Team Fake-ob
Apparently Taylor Lautner only befriends people who look eerily similar to him, who are then sent to meander outside of offices in lieu of him meeting with studio heads. Fun tidbit:The deeper your bond with Taylor, the deeper your V neck tee. '
---
Scottkward
Scott and E are business partners but will they ever be life partners? Not with Melinda Clarke of OC fame standing in their way, and Scott knows just the way to take her down '? ' Approach her and E letting them know he can '??t stay, only to continue standing in front of them- his highlighted locks shimmering with the golden subtext of: BACK OFF MY MAN. '
---
Ez E
But often times two gingers cannot keep away from each other sexually (real fact of science, which I Wikipedia '??d it so I know is legit) and thus E and Melinda Clarke consummated their fiery (crotched) bond after a few Budweisers and some timely Viagra digs. '
---
Sean Jean for KKK
Billy '??s like okay guys would a member of the klan rock a red (maybe it '??s FUBU?) jump suit? I mean fine, maybe a super chill one '? '
---
The D Word
Disneyland in the summer? Sounds like a fucking nightmare. What is Ari thinking? Lines are out of control not to mention his wife wants a divorce.
---
Vince '??s Friend #3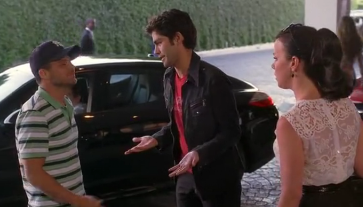 For Turtle- million dollar investments come and go. Sometimes they don '??t work and other times they still don '??t work, but at least he knows he always has a position escorting Vince about town and killing background shots with Arnold.
---