By: Dan Abramson
NFL Week 9 Recap: Apparently the 49ers and Bengals Are Good at Football
I'd like to begin this week's recap by congratulating the San Francisco 49ers, who won again on Sunday. It's rare that a team could have such a good record, 7-1, yet not supply any reason for anyone to give a shit about them. One for the record books, I guess.
If anything, it feels like every win they rack up, I somehow lose respect for them. "Oh, you're king of the NFC West. That's awesome, it is. While you're at it, why don't you visit the children's hospital and talk about how bright your future is because that's basically what you're doing, 49ers, so just stop it. Nobody likes you."
Actually, you know what? Let's talk about the NFC west. Every week I skip over them because they're a fake division and quite honestly even this sentence is boring me so nevermind I'm done. See you next year, NFC West!!!!
Laides and gentleman, the 2003-2010 Buffalo Bills! Ugh, that Jets/Bills game was unbearable so I'm not gonna spend too any time on it. However, I will happily show a GIF of when when Drayton Florence made Mark Sanchez flinch and I can only assume fart himself a little.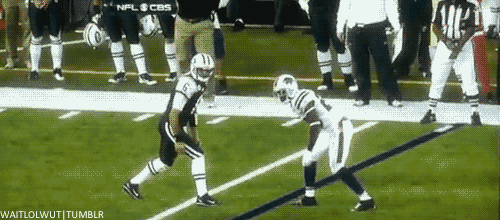 Haha, Sanchez. I haven't seen you that scared since Turtle almost didn't pick you up from your power brunch at Urth Cafe.
The Dolphins did themselves a disservice, dismantling the Chiefs and knocking themselves out of the Andrew Luck sweepstakes, providing a clear path for the Colts to wrap this one up.
And the Colts 'oh brother. Can someone put an end to their season? Like I'm not saying they should all die, but if they did all die, couldn't we somehow view it as a positive? They'd be remembered as the team that all came down with shingles (that's a thing still, right?) in the middle of season, as opposed to a perennial playoff team turned laughingstock who never got shingles. What I'm saying is let's get shingles to make a comeback.
Anyway, the Colts lost to the Falcons because they apparently spent the last fifteen years relying on one player as opposed to building an actual team.
Speaking of the Manning Brothers, who sound like both a local electrician company and circus act from the 20s, Eli continued on his quest to convince the league he's a big boy. To be fair, the guy is playing like an All-Pro right now and I really can't wait for it to be revealed that during the preseason he slipped on a baseball, broke his arm, and now his tendons are too tight.
On to Tim Tebow. It pains me to say this, but Tebow actually played decently this week, helping the Broncos to a win over the Raiders. And I want to be happy for the guy. I do. But it's just so hard when he celebrates with tweets like this:
Just kidding, that wasn't his tweet from Sunday. Fooled you! It was this:
See? Big difference. Sidenote: What's the point of having a Twitter account if you're just repurposing a book everyone already has? And if he is going to do that, can we mix up the books? Maybe something I know I'm supposed to read, but haven't gotten around to.
Look at all those retweets that fake tweet I made up got! It's like someone went in and changed the text but forgot to modify the real retweets!
Back to the Broncos/Raiders, which honestly I didn't watch because I was convinced Tebow would look at the camera, like he was addressing me personally, and mouth "Jew" really ominously. BUT I did read the box score and saw Carson Palmer threw three more picks. Hm, so the Palmer trade isn't paying dividends? Weird. I would have thought the years off and open desire to never set foot on the field again would have been a sign that this guy was primed and ready.
On to the Bengals! Just kidding. I have nothing to add. They're the 49ers of Ohio. Good for them, but I just don't give a shit. Get some new uniforms and we'll talk.
Packers won a shootout against the Chargers. Let's elect Aaron Rodgers president, shall we? All I want is someone who is competent at their job to lead us and right now the only person I can think of is Aaron Rodgers. Dude just gets it done.
Okay that's it everyone. I covered every game! Also I think Drew Brees did something this weekend. If you would like to know more, please
.