By: Dan Abramson
NFL Week 12 Recap: Let's All Get Fined by the NFL
So much happened in the NFL this week. Just a head's up, there's a good chance I won't cover any of it. We'll see.
Let's start with the players likely to be punished by the NFL. First up, Albert Haynesworth's protege, Ndamukong Suh, jammed a man's head into the ground and then stomped on his chest because that's what happens in football and TAKE THE STICK OUT OF YOUR ASS, ROGER GOODELL.
Yayyy violence. Okay, so that's one's warranted. '
Up next: Stevie Johnson. If you missed it, the Bills receiver did an impersonation of Plaxico Burress, who a few years back hilariously shot himself in the leg and hilariously went to jail for firing a concealed weapon in a nightclub. So hilarious, that Plaxico. But before I address the TD celebration in question, which was awesome by the way, I'd like to acknowledge that who gives a shit? Great. Glad we established that. Regardless, if the NFL comes down on Johnson, they're essentially punishing him for mocking a player they were already embarrassed about, which just seems a little petty and perhaps they should focus on not acting like they're surprised when people acknowledge that there are ex-cons in the league. Just a thought.
Also —
And if we're actually talking football, something I usually avoid when covering football games, the fact that he dropped the potentially game-winning pass is far worse than a mildly humorous, slightly offensive jig in the end zone. Aaaand real-talk ends now.
Oh wait wait, one more real-talk statement. A.J. Green deserves to be Rookie of the Year if only for the fact that no rookie is dominating on a regular basis as much as he is. Yes, Cam Newton can throw the ball 600 yards, but it's more likely to be caught by his Dad (who then sells it for a thousand bucks) than any Panthers receiver.
On to the Jaguars, who reminded everyone that they still exist on Tuesday morning, firing coach Jack Del Rio and informing the league of plans to sell the team. They also announced Maurice Jones-Drew will be joined by 10 lucky fans who will be given roster spots for next Sunday's game in an event called "See If Anyone Notices The Difference."
The Saints crushed the Giants on Monday night despite wearing children's pajamas for the game.
In Eli's defense, the game was played way past his bedtime.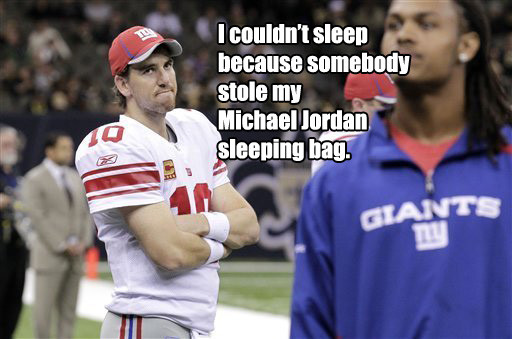 I feel bad for the Texans. Finally they've put together a well-rounded team, only to have the season rest on the shoulders of retired actor Matt Leinart ' And then those shoulders broke. And now they are left with Caleb Hanie.
I know what you're saying. "You IDIOT, Caleb Hanie is currently ruining the season of the Chicago Bears." Valid claim. Totally valid. But have any of us actually seen Caleb Hanie. Do we know what he looks like? No. I like to think he's out there ruining the seasons of all the promising teams in the league, throwing interceptions across the country. I also would love to hear a Bears souvenir salesman say "We're out of Caleb Hanie jerseys," if only because I like to hear things that will never ever be said.
For the rest of the recap, I'm going to just imagine all the games being covered by The Huffington Post.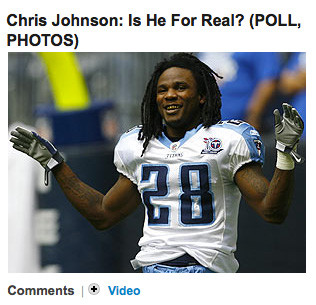 '
I've yet to check, but there's a good chance those are all real headlines.