By: Dan Abramson
Super Bowl Recap: Sad Tom Brady is Sad
It's all done, guys. The season, the Super Bowl, Peyton Manning's status at family barbecues.
Giants 21, Patriots 17.
I think my favorite part of this game will be the fact that in 30 years, when Tom Brady sits down with his grandkids and talks about his career, he will tell them the tale of the powerful man who bested him each time the two faced off in the Super Bowl. And because of Brady's prolific career and accolades, the man who conquered him again and again will grow into a mythic figure, a legend the Brady grandkids whisper about when the lights go off. And one day they will ask to see a picture of this man. And Tom Brady, then on his deathbed – ' having come to terms with his life, his career, and his abilities – will show them this picture:
There he is. There's our star. The little boy who stayed up way past his bed time to lead the Giants to a Super Bowl title. He's going to be so sleepy tomorrow when he tells his friends at school about his crazy weekend in Indianapolis.
For reals though, Eli played a great, albeit completely uneventful, game. 296 yards, a touchdown, no picks. Meanwhile, his counterpart, male-model Tom Brady had a respectable outing, but some uncharacteristically poor decision-making was undoubtedly his downfall. Understandable as his mind was likely on David Beckham's gratuitous underwear ad and how that should have been him. '
Let's take a look Brady's two major mistakes. The first came on his opening pass, which resulted in an unintentional grounding call from the end zone and a safety. Brady was hit on the play and honestly, when the flag was thrown I assumed it was going to be a roughing the passer call. Like the refs had agreed beforehand that Brady's beautiful face was not to be put in danger.
His second was the interception on an underthrown pass marrying a supermodel and living the life we all wish we could live. Here are Tom Brady's numbers before dating Gisele and achieving a standard of living that only fictional characters attain: Three Super Bowl titles. Here are Tom Brady's numbers after: Two Super Bowl losses, one out of wedlock child.
Anyway, this was the most boring close game I've seen in a while. Sure, it had its moments. Like when Ahmad Bradshaw took a shit on the end zone.
Or when Mario Manningham gave us the poor man's David Tyree.
And of course, sad Tom Brady.
Despite coming down to the last play, nothing especially exciting happened. So let's look at the commercials and other inconsequential things.
Steven Tyler performed the halftime show. JK JK JK JK JK JK JK. It was hot new star Madonna. I was actually impressed with her performance. There's a reason that she's been around, killing it for years. Perhaps it's the fact that she enters all shows behind an actual army.
Oh, a Roman army featuring the the extras from 300 entered the stadium to 100,000 people cheering them on? They clearly are introducing some young, undiscovered goddess to the world, right?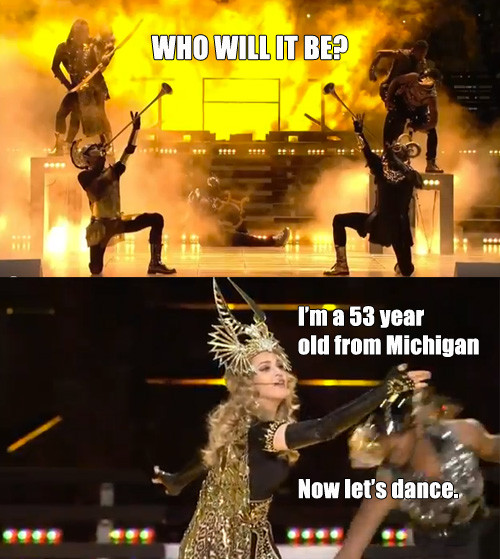 To be fair, it really was a solid performance. LMFAO made a completely natural, not awkward in anyway appearance. Also MIA was there. What a prankster she is!
And how about those commercials! They sure did exist! I loved it when the company I was already well aware of spent 5 million dollars to remind me they are still a company! I almost forgot about Bud Light until last night. Way to go guys.
Can we talk about Go Daddy? My hat is off to their creative team. They're constantly under fire for their overly-sexual and "edgy" commercials starring amateur porn actress Danica Patrick. But they stick to their guns and won't reel in the tits for anyone. Real class act.
Unnecessary sarcasm aside, they weren't nearly the raciest ad of the night. That award goes to Fiat who essentially gave a national audience a money shot.
Also, did you guys watch The Voice afterward? I had not watched The Voice at all until last night despite my mom telling me it is a very good show. She was right! It's a very good show! Also this happened on my TV:
In case you had forgotten, that is what Cee Lo looks like holding a cat during the credits of a real television show in which millions of dollars were spent to produce. And no, there is nothing wrong the aspect ratio of the television in the photo.
That's it, guys. Super Bowl 46. The 2011 NFL season. All in the can. It's time to move on. Oh, but before we do, here is a picture of Giants coach Tom Coughlin receiving a celebratory embrace from Flava Flav.
See you next year!