By: You're Doing It Wrong
Apple's 'Maps' Takes You on a Tour of New York City
Apple has unveiled it's "Maps" app with the latest iOS update and oh boy is it something. Now, a lot of people are up in arms about it, saying it pales in comparison to Google Maps (which it replaced) and it's consistently wrong.
But as you'll see from the screenshots below, it's perfectly functional. Even in a big city like New York.
Now let's use it to take a tour of all that the Big Apple has to offer:
If you're new to the city, you're going to want to see some of the big attractions that you've always heard about. We recommend starting with Times Square.
As you can see on Apple Maps, Times Square has been moved to southern Manhattan and is now just a cement roof top. Only in New York!
While you're that far south, why not jet over to the Statue of Liberty:
Isn't it beautiful?
When you get back, make sure to check out the World Trade Center. It's doing very well on Yelp, which Apple Maps has made an essential part of navigating.
5 stars!
After all this, you'll probably want to do some shopping. Head on over to Soho. Here are some specific directions to get you around, of course provided by Apple Maps.
Perfect. We're assuming you got there with no problem, whatsoever, and enjoyed all of Soho's offerings.
As your day is winding down, we really think you should use Apple Maps to make your way into Brooklyn or Queens. They're just like Manhattan, but with a little more of a neighborhood vibe if you know what we mean.
Here are some directions to get there:
Did you get there? No? That's weird. Maybe try using the Brooklyn Bridge. If you can't find it, here's what it looks like on the Manhattan side:
Welp! Look out for that dip! Don't worry, as you can see your car stretches to match the length of the road. Here's what it looks like when you're driving on it:
A little hilly! Let's go in for a closer look!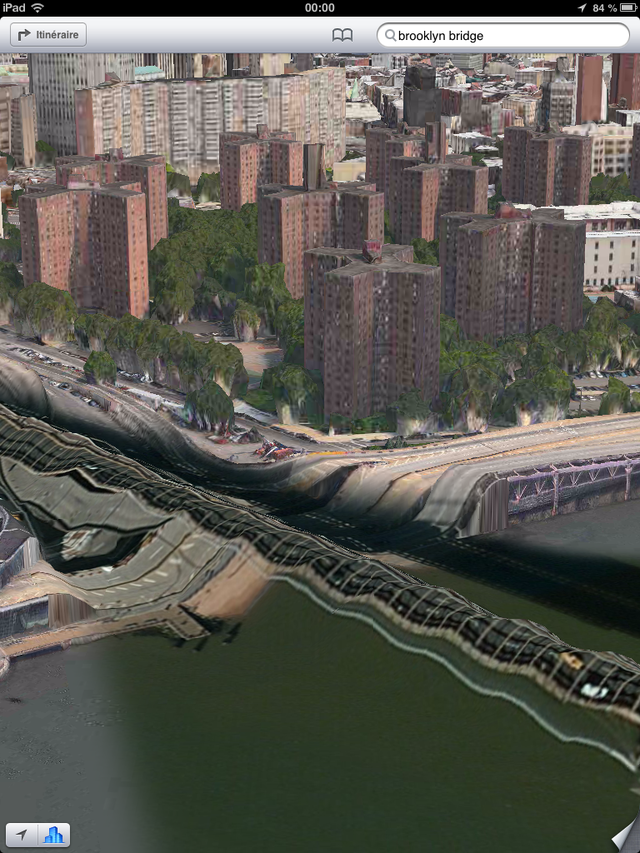 Now go enjoy Brooklyn! Don't forget to visit Coney Island, which is now conveniently located in the middle of the borough!