By: Juliet Seniff
10 Fall Fashion Musts For Rich Assholes
BE LEATHERED. Leather Harness/Bra – $1,400
Maybe you're looking for a good time or maybe you're a horse, but everyone knows fall is all about leather! So saddle up like a tactical ops specialist or Joan of Arc with Herv ' L 'ger's leather harness.
---
BE FOILED. Jeans made from Reynolds Wrap – $1,250
You're smart enough to realize that if aluminum foil can keep a potato warm, it can keep your ass warm. The pair of $1,250 skintight foil leather pants you've been looking to wear this winter are finally here, thanks to Acne Jeans.
---
BE COMFORTABLE. Swarovski Heels with Anti-Rape Spikes – $2,950
Whether you're going as a bedazzled, futuristic prostitute this Halloween or just need a sensible pair of driving shoes, these Giuseppe Zanotti heels give you big bang for your 2,950 bucks.
---
BE GAME. Domino-shaped Lady Purse – $1,195
Remember how you used to kick your 7 year-old cousin Wesley's ass during domino tournaments at the Nantucket house over Labor Day? Now you can relive the victories by carrying this Charlotte Olympia clutch in the shape of a domino (complete with pips made of black Swarovski crystals)! Boy, was Wesley a little bitch.
---
BE WILD. Gauche Tigerface Necklace – $1,985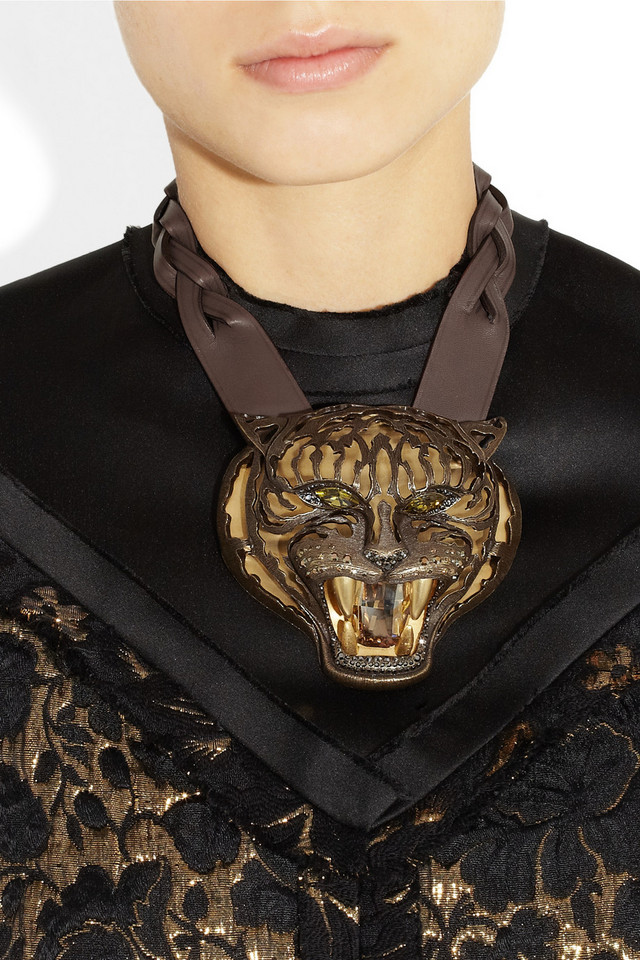 Endangered tigers are so in right now and delicate jewelry was never your thing. How are people gonna know you're the gauche queen of the jungle unless you have this giant thing hanging around your neck? Prove it to them with this hideously hot necklace by Lanvin.
---
BE CAPED. Luxe Batman Cape – $7,980
Put your boring, rich civilian alter-ego aside with the help of a giant lambskin Valentino cape that costs almost EIGHT THOUSAND DOLLARS ($1,000 per lamb). It will keep you warm this season and also has oodles of room to hide hotel soaps for your guesthouse.
---
BE STRIPED. Zebra Silk 'Windbuster' Bodysuit – $2,100
An animal-print, satin jumpsuit is just what you need to both stave off gusty, winter winds and alert people to exactly how much blow you're doing in your down time. At only $2,100, Roberto Cavalli is practically giving these things away.
---
BE SUITED. Deadpansexual Herman Munster Suit – $3,100
Leave the other undead manservant job applicants in the dust with a stylish Thom Browne suit that captures your fall style. Nothing says "hire me" like a pair of safety pin-print pants tucked into argyle socks.
---
BE COLLARED. Bloodred Rabbit Dickie – $1,900
When investing in your fall wardrobe, think smart. it's important to look for a great deals and select pieces that will never go out of style. This Marni collar made out of bloody, dead rabbit fur is exactly the opposite of that; it's use is so specific that it's limited to YOUR COLLAR. But since it was a gift from the married guy you're having an affair with, you'll want to at least wear it once. Maybe this Sunday when you're drunk and doing your Liberace impersonation at the Fred Segal cafe.
---
BE BUGGIN'. Weird Crystal Scarab Ring – $450
Above all else, invest in a bejeweled ring in the shape of a species of dung beetle worshipped by Ancient Egyptians, for God's sake. Like this Roberto Cavalli scarab ring. You don't want people to wonder if you're people a wealthy spinster who literally has nothing else to spend money on – you want them to know for sure.
---