By: Avin Das
2012-2013 NBA Season Predictions
Most Disappointing Team – Oklahoma City Thunder
Let's pour a 40 out and play "End of the Road" by Boys II Men on repeat for the end of Oklahoma City's Big 3.
I bet this is how Russell Westbrook reacted when he heard the James Harden trade.
---
Most Interesting Team – Boston Celtics
I look forward to a full season of Rajon Rondo catapulting himself into the best point guard not named Chris Paul, KG in full beast mode, and hundreds of insults towards Ray Allen.
---
Least Interesting Team – Orlando Magic
This is Gustavo Ayon. He's the best player on the Orlando Magic.
---
Whitest Team – Minnesota Timberwolves
Lou Amundson, JJ Barea, Chase Budinger, Andrei Kirilenko, Kevin Love, Nikola Pekovic, Luke Ridnour, Ricky Rubio, Alexey Shved, and Greg Stiemsma. All white guys and make up 2/3 of the Timberwolves roster. African-American civil rights leaders in Minnesota have been complaining about the Timberwolves using "White Ball" as a ploy to sell tickets so if the Timberwolves accomplish anything this season, look forward to "White Ball" being an Oscar contender in 2017.
---
Best League Pass Team – Los Angeles Clippers
Chris Paul. Blake Griffin. That should be enough to watch nightly on League Pass, but the Clippers also feature two reality stars (Lamar Odom and Matt Barnes), a lunatic (Jamal Crawford) and the first player/head coach (Chauncey Billups) serving under a figurehead head coach (Vinny del Negro).
---
Most Annoying Team – New York Knicks
Knicks will be the most dysfunctional 43-win team in NBA history. Carmelo will handle the ball too much, Amar'e will batle injuries, JR Smith will take terrible shots and Tyson Chandler will be more mopey than a Morrissey fan.
---
Biggest Bandwagon Team – Brooklyn Nets
Full disclosure: The Nets are my favorite team. I love the Brooklyn move, but it feels like being with a very sick wife who suddenly gets healthy, inherits billions of dollars from a Russian Bond villain, becomes friends with Jay-Z, and moves to the nicest house in Brooklyn (built upon several smaller homes and homeless shelters). I'm glad there will be more than 8 actual Nets fans on the planet, but I am offended by anyone who wears a Jay-Z Nets jersey. Can anyone explain why Jay-Z chose to be #4?
---
Biggest Target – Jeremy Lin
I imagine Jeremy Lin keeps a poster of this photo of James Dolan in his house as motivation.
---
Best Comeback – Derrick Rose
I may be buying into the Adidas-sponsored viral videos, but if you don't want Derrick Rose to come back, you hate America, apple pie, and puppies.
---
Most Improved Player – DeMarcus "Boogie" Cousins
Like Lindsay Lohan and Britney Spears, I will always love Boogie Cousins and hope one day he stops being a massive headcase and realizes his massive potential.
---
Rookie of the Year – The Brow
David Stern fixed the lottery so the NBA-owned Hornets could draft Anthony Davis
Hornets Drinking Game: If you take a shot every time an announcer gushes over Anthony Davis's length, you will die in the first quarter.
---
Biggest Acquisition – Dwight Howard
Dwight Howard played the superstar trade demand card worse than any athlete in sports history and still ended up on the Lakers.
---
Second Biggest Acquisition – Steve Nash
I am not emotionally ready to talk about the Steve Nash trade to the Lakers.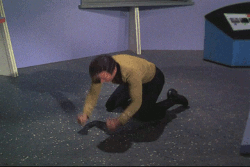 ---
Luckiest Player – Kobe Bryant
Kobe Bryant gets the best point guard of the decade to run his offense and the best defensive center to anchor the defense.
---
Most Valuable Player – LeBron James
LeBron James earned the "Best Player on the Planet" by winning the league MVP, championship, Finals MVP, and Olympic Gold Medal. He's only two championships away from becoming the star of the "Space Jam" sequel.
---
Champion – Miami Heat
Heat over Lakers in 6 and Repeat.
---