By: The Manning Bros
The Mannings Take Manhattan: Peyton & Eli's Big Apple Adventure
Hey guys, it's me, the real Eli Manning! I play football in New York City for the NY Giants. My big brother, Peyton, plays for the Denver Broncos, but guess what? The Broncos are in the Super Bowl this year, which means Peyton got to come visit me in the Big Apple! Since I am the New Yorker in the family, I thought it would be fun to take my big bro on a cool sightseeing tour of NYC ' Manning style! So we suited up, borrowed our dad's digital camera, and hit the streets.
We had some great times and snapped some great pics, so sit back and enjoy The Manning Brothers' Excellent NYC Adventure!
We started off at the Super Bowl village in Times Square.
A lot of people wanted pictures with my brother, especially the ladies. Peyton told me to be quiet and close my eyes while he kissed the girls. He's so funny 🙂
Then we got roughed up by some rowdy Seahawks fans. All in all, the whole scene was a little too touristy for a native New Yorker like me.
So we got out of there and I showed Peyton some more authentic NYC hangouts, like this one. Did you know that's where they got the name "The Big Apple?"
Then we hopped on the world-famous New York City subway. Peyton didn't have any money in his uniform pants, and since my dad doesn't let me carry cash, we had to sneak in …
But then we saw the cops! I was so scared that Peyton joked he was gonna have me arrested for being a pussy. I told him very funny but that isn't a crime, at least not in New York City. Fortunately, the cops didn't see us sneak in and we even ended up making friends with them! I told the one cop that he was my best friend, other than my brother. I said it in a joking way but I meant it.
Then I had sort of a close call with a train …
… but soon we were on our way!
We decided to check out some live, black comedy at Caroline's (a small comedy club I know about). Look! They're brothers! Just like us!
I asked this guy if he was in the Wayans brothers and he got mad at me. Only in New York!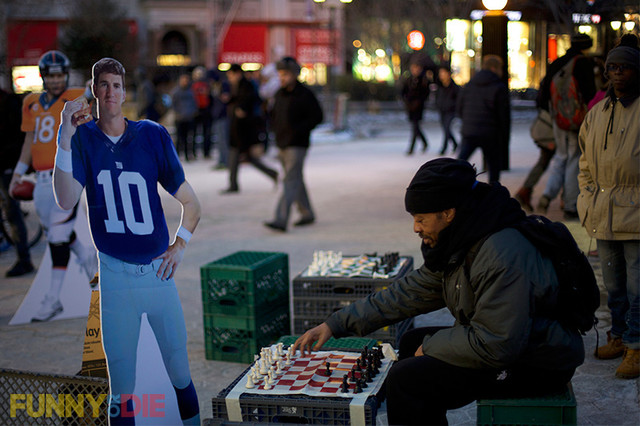 Peyton then stopped to show me "where the Seahawks do all their shopping."
At this point we were sorta hungry, so we grabbed a quick slice at the pizza place where I eat before every game. "Two Bros!" Get it?!
Peyton's football was flat, so we made a quick stop at the football store (or as they call them in New York, "sporting goods stores").
Then Peyton made me try on this baby shirt. When I told him it was for little babies, he said "exactly." My brother's crazy ;P
Here we are taking a horsey cab in Central Park. My favorite part of the horsey ride was hanging out with my bro. Peyton said it was funny when the horse crapped.
Then we met a nice bus driver named Joseph. I told Joseph he was my new dad. I still have my old dad but Joseph is my new "city dad."
Then we hopped a big tour bus to our next adventure!
We got off at the park and played a little Frisbee with some nice college students.
My neck hurt pretty bad after Frisbee, so Peyton suggested we find a place to sit down and get some chow. Citibike time!
We tossed our Citibikes in an alley and headed to my favorite bar, where we had some good brother-to-brother time (and more than a few drinks!). Now that we're older, it feels good that I can go toe-to-toe with big bro.
I'd started feeling pretty silly from all the alcohol, so I showed Peyton my Oscar the Grouch impression.
Peyton said I was embarrassing him and "scaring away all the tail" so we decided to go see a movie while we sobered up.
Peyton kept teasing that The Nut Job was about me. I know he was joking but it hurt my feelings. Then we started fighting over who got to hold the Captain America shield and they kicked us out.
But then we saw a photo booth and I begged Peyton to take a few pics with me! lol Goofballs :?)
Peyton got mad that I kissed him on the lips in that last photo, so I brought him back to the bar to cool down. He did a bunch of shots and started saying things like "You think you can outdrink me just 'cause you have more Super Bowl rings?" I never even said that! But he forced me to do a drinking contest with him anyway.
I ended up getting a little sick from all the excitement and the 11 J 'ger shots Peyton forced me to do. Guess it was just one of those afternoons! 🙂
Peyton gave me some time to let it all out …
… but then he told me to "man up" and made me smoke a cigarette like the "big dog." I guess he meant him.
It was my first time smoking and I didn't like the taste, but I pretended for my brother's sake. I love him so much.
We were about to head back to the hotel so Peyton could sober up for the Super Bowl the next day, when we caught a glimpse of the Empire State Building, all lit up. We stood there for a while, just taking it in, until Peyton finally said, "Come on, little bro, let's get you in your PJs and I'll tuck you into bed." I tell you what, I wouldn't trade that moment for all the Super Bowl rings in the world.
In the words of my favorite actor, Ice Cube, "today was a good day."