By: Funny Or Die
13 Things To Know About This Year's Burning Man Festival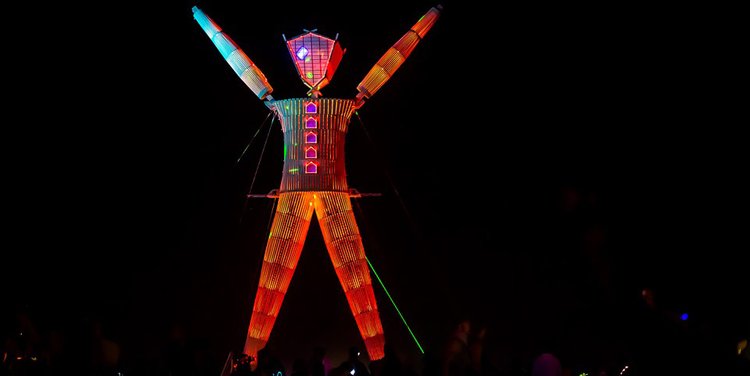 Once a relatively small event for counter-cultural types, Burning Man is now an annual destination for everyone from experimental college students to Silicon Valley CEOs. Here's everything you need to know about this year's Burn:
Warning: There might be drugs there.
Remember to bring Sunscreen to Burning Man! Sunscreen is the name of a dude who lives in a teepee on Redondo Beach and still needs a ride to the festival.
Burning Man is the nation's top destination for people to creatively express their trust funds.
The festival culminates in the burning of a structure called The Temple, followed by the crowning of that year's Burning Man King and Queen.
Little known fact: The manlike effigy that's burned each year and gives the festival its name is actually a likeness of America's Funniest Home Videos host Tom Bergeron.
Any child born at Burning Man shall be confiscated by the hoard, dipped in body paint, and named something like Crowbeak or Xanduth or Greg.
Jeremy's parents will be back on Sunday night, so everybody needs to be out by then, cool?
For $900, the Burning Man Premium Pass gives you a complimentary pink body-morph suit, round-the-clock access to all 10 mud huts, and your own personal weirdo.
This year, hula hooping is not allowed. Just kidding, of course hula hooping's allowed. Spooked ya, though, huh?
Once inside, no money is exchanged, so trade with your neighbors for food, art, and commodities futures.
The gate to the festival is guarded by two magical statues that will incinerate anyone who shows fear. Or maybe that's The NeverEnding Story. Honestly what's the difference.
The festival will conclude with extinguishing the Burning Man in the most ambitious ice bucket challenge to date.
A business-casual dress code will be strictly enforced this year. Please plan accordingly.