By: News
Daily Brief: Ebola Bike Ride, Tim Cook is Gay, and More
Apple CEO is Gay
Apple CEO Tim Cook came out as gay in a column for Bloomberg Businessweek, writing: 'Let me be clear: I'm proud to be gay, and I consider being gay among the greatest gifts God has given me." The announcement prompted a wave of badly misspelled anti-gay Internet posts originating from cracked, hand-me-down Droid phones.
---
The Maine Ebola Troublemaker
Maine officials report that Ebola Nurse Kaci Hickox continues to violate her voluntary quarantine, with photos emerging of Hickox going for a bike ride with her boyfriend. Given the amount of media attention Hickox has been getting I guess you could call her a viral star! Haha, sorry, please laugh at that joke, I'm ' I'm dying of Ebola. Sincerely, Dr. Craig Spencer
---
Finally Something Good Happened to the Bay Area
San Francisco Giants pitcher Madison Bumgarner carried his team to a Game 7 World Series win. After the victory, San Francisco residents flooded the streets to develop World Series celebration apps.
---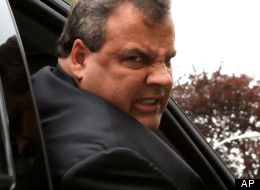 Governor Christie to citizen: 'Shut up!"
Governor Chris Christie told a heckler to 'shut up" during a press conference remembering Superstorm Sandy. Christie further dispelled his reputation as a bully by giving the heckler a wedgie and a series of noogies.
---
Sweeeeeeede Palestine (Bah Bah Bah!)
Sweden recognized Palestine as its own state today, joining the over 130 other countries to do so. Meanwhile, the United States thinks the name Palestine sounded familiar but can't quite place the face.
---