By: Dan Abramson
'Old Thrower': The End Of Peyton Manning Told In The Spirit Of 'Old Yeller'
With the Broncos' season ending earlier than expected and their head coach resigning, major changes are on tap for Denver. The biggest question mark: Peyton Manning 's future. General Manager John Elway has a major decision on his hands. What will they do with their aging and ailing quarterback?
---
Mr. Elway and his partners approached little Eli. With their father Archie gone, Peyton had been the breadwinner. 'Peyton is old and we all knew this day was coming, Eli," Elway informed the young boy. 'He 's in pain and there 's no hope for him now. He 's suffering."
---
"Don 't you worry, brother. Everything will be alright, ya hear," Eli cried out. The crying was nothing new. Eli had cried for days now. About his brother, about having to eat his vegetables. Eli always was a cryer. 'Mr. Elway told me you were going to a farm for quarterbacks. A big training camp upstate. With plenty of room to run."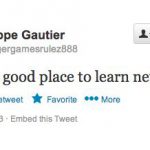 ---
Peyton was howling from his cage. He was old. He was suffering. Eli saw Mr. Elway come out of the house with a gun in his hand. Finally realizing what Mr. Elway intended to do, Eli ran toward Peyton 's cage and climbed up to reach its latch. 'ELI GET DOWN FROM THERE," Mr. Elway called out. Eli climbed down from the cage, his Dunkin ' Donuts Blue Razz Coolatta ' filled with tears.
Mr. Elway shooed Eli away and raised his rifle. Before he could pull the trigger, he heard a whimpering 'Waaait."
It was Eli.
'He 's my brother. I 'll do it," Eli said, courage shining through his fear. 'I 'm the man of the house now."
---
Finally out of his brother 's shadow, Eli became the man of the house. Next season, he threw 100 touchdowns. All of them were long bombs.
---
Illustrations By Dariel Filomeno