By: News
Woman Flashes Her Boobs For Google Maps Street View Car (NSFW)
Everyone has a dream. Australian woman Karen Davis ' dream was to be on Google Maps. When she saw the Google Street View car driving down her street one day, she knew that destiny was about to drive by her house. She didn 't let her chance slip by. With a quick lift of the shirt, Davis cemented her fate in being a permanent part of internet history (or at least until the next time Google updates its Street View, which is often).
For the uncensored version of the event, click here. Otherwise see below for a screen capture of Davis with a black bar over her legacy (i.e., her naked boobs).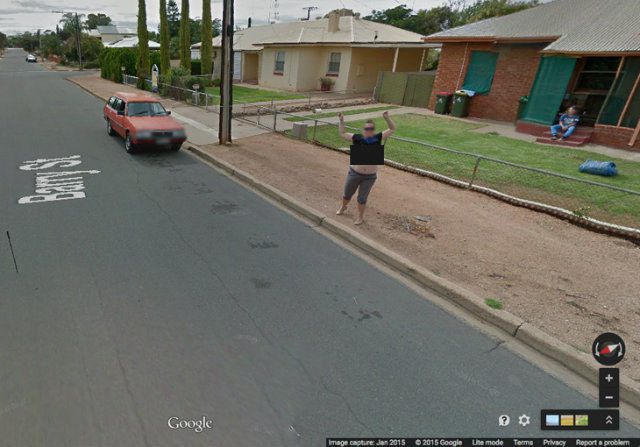 In an interview with her local paper The Port Pirie Recorder, Davis explained her motivations for her exhibitionism:
'I look at Google Maps a lot and I wanted to be on there and I thought this is the way to do it. I got to tick something else off my bucket list. I met [Australian football player] Sam Newman and now I am on Google Maps. I also did it for a friend in the United Kingdom. Now he can see me all the time. '

' The Port Pirie Recorder
Davis has also had her critics. Responding to them on social media, Davis posted, 'Haters hate, you got the guts to do it? All the flat-tittie chicks think I am disgusting. Big-boob envy has hit Port Pirie."
Word up, Karen. Word up.