By: Zack Poitras
"My Stupendous Fucking Will Save Our Kind" By Lu Lu The Panda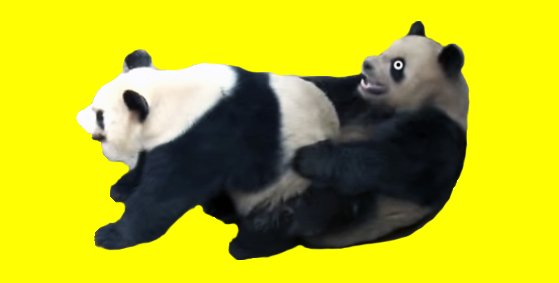 If you know anything about pandas, you know pandas normally don 't fuck. They hate fucking ' most don 't even know how to fuck.
But not me, Lu Lu. I know how to fuck, I love to fuck, and through my fucking I will save us from extinction. If you got a lady panda, I will fuck it pregnant.
I 've been fucking a lot lately, and when I fuck, I fuck long, and I fuck good. The average panda sex party lasts about two minutes. Well, I gave sweet Zhen Zhen the pink bamboo for seven minutes the other day. And my sexy, fat Oreo, Xi Mei? EIGHTEEN FUCKING MINUTES OF FUCKING! That 's like 18 weeks in Panda Time. What can I say, I 'm the Sting of Pandas, the tantric master of Giant Poonda.
I fuck in all sorts of positions, too: Doggy style, reverse cowgirl, the one where you sit against a wall because you 're tired but still down to fuck, the one where you just lay on the cold cement and let the lady panda do all the work, the one where you roll around the ground surprised your dick stayed in the panda pussy so you don 't give up, and that one where you stare at the panda you 're fucking and suddenly realize it looks just like you and you could be fucking yourself and that 's kind of weird but your dick 's already in there so you might as well keep fucking yourself and work out the mental shit later.
Maybe you 've seen me fuck in all these positions on TV. Everyone 's watching me fuck right now, because I 'm saving the panda world one belabored thrust at a time. That 's alright ' I like being filmed in action. That 's a turn on for me.
(You know what else is a turn on? That metal stick humans use to get my cock hard. What a hot fuckin ' stick. Make sure you got one of those sticks if you want me to fuck your panda.)
I 'm happy to travel the world and fuck pandas raw as bamboo tubes. I will fuck as many pandas as it takes for the world to be a sea of black and white. And since they 'll all be my sons and daughters, you know the next generation will be down to fuck, too. My fuck-hungry genes are truly the key to the survival of all pandas.
I 'll also fuck polar bears, get those numbers up. Grizzlies, too ' I 'm not afraid. How are giraffes doing these days, population-wise? I 'll fuck a giraffe. And since we all look alike, I 'm always down to fuck zebras, penguins, and orcas, FYI.
But don 't look at me as a hero or a Panda Jesus, even though I am. Although saving a whole species through 18-minute-long bouts of human-supervised coitus could be looked at as a burden by some, I 'm just fulfilling my destiny.
Besides, I 'm not fucking for me ' I 'm fucking for all of us. The world needs pandas, and the world needs me to fuck them into existence.