By: Funny Or Die
New Poll Reveals Americans 'Just Fucking With" Donald Trump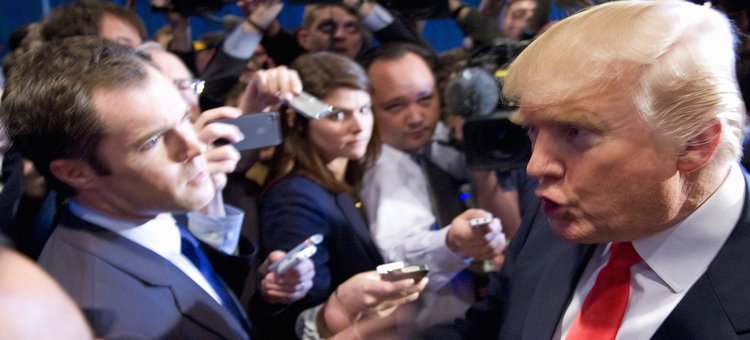 While Donald Trump is leading the field of Republican hopefuls looking to gain the GOP nomination in 2016, a new poll out this week reveals not all may be as it appears.
'We 're just fucking with him," says Ames, Iowa, resident Jeremy Blanc. 'It 's funny to watch him take it seriously. He gets super caught up in it. Dude 's a fucking lunatic."
A new Funny Or Die poll, released earlier this week, reveals that 99% of those claiming to be Trump supporters are only fucking with him for their own entertainment. It is as yet unclear if this was a true mass movement or if every person came to the conclusion on their own that watching Donald Trump believe that people support his becoming the actual president of the United States would be hilarious.
'It 's like watching the kid who shoots milk through his nose when he laughs," admits Karen Young of Acworth, New Hampshire. 'It 's gross and no one wants nose-milk all over the table, but damn if you don 't buy that kid a milk. I 'll say this, though: Donald Trump is an awful, awful man. Do you know that he said if his daughter wasn 't his daughter he 'd probably be dating her? He literally, actually said that. Who wouldn 't want to fuck with that guy?"
While there is no one clear central motive for this country-wide practical joke, the dearth of shark attacks and first-run TV shows top the reasons of those polled by Funny Or Die. 'I love the tonal shift Louie took last season ' the series arc was intense," noted another national prankster polled. 'But until the next season starts, this maniac is hilarious. Someone asked him to quote the Bible and he just yelled 'Leviticus ' at them. It 's beautiful."
'Obviously I 'd never vote for the guy," noted yet another. 'He 's mean, impractical, and wildly sexist. But it 's funny as shit to watch him have to stand in wind, and that has my support all day long. He get 's this petulant look on his face, like my grandpa used to look when he couldn 't drink on a Saturday. Though I 'm pretty sure Trump is drunk."
No one could say for certain when they would stop fucking with Trump, but most agreed that football would be the most likely candidate to take their attention, and all agreed they 'd be ignoring him by Thanksgiving and forgetting about him by Christmas. 'That 's the thing about that milk kid," noted Ms. Young. 'The novelty wears off pretty quick, and then you 're just stuck with a table full of nose-milk."
Of the remaining 1% polled who actually do support Trump, all are incredibly rich and have zero sense of humor.