By: Funny Or Die
What Funny Or Die Is Giving 2016 's Oscar Nominees And Presenters
Every year, the Academy Awards thanks their nominees, presenters and hosts with elaborate gift bags of pricey and exotic souvenirs. We at Funny Or Die loved this year 's crop of movies so much that we couldn 't help but give them a bag of our own as well.
Here 's what Hollywood 's finest will find upon opening up Funny Or Die 's Oscars Gift Bag:
---
An I Heart NY Brooklyn Shirt
No one we know saw Brooklyn, but if you did see it, and you loved it, then you 'll love this I Heart NY shirt that we cleverly redesigned to say I Heart Brooklyn.
---
A 1998 iMac
In honor of Steve Jobs, we 're giving everyone a used 1998 iMac, replete with fourteen JPEGs of porn and a copy of Myst that 's stuck in the CD hole.
---
A Dead Horse Costume Filled With Horse Guts
Oscar nominees can get a head start on Halloween with what 's sure to be this year 's Minion – the gut-spilling dead horse from The Revenant. People may not see the guts when you are wearing the costume, but we promise you you 'll feel just like Leo when you put it on!
---
An Autographed Photo of Jeff Bridges
To help celebrate Bridge of Spies, we turned to America 's favorite bridge: Jeff Bridges. Genuine photo, genuine autograph, genuine confusion on his part as to why he 's involved at all.
---
Damon 's Own Dehydrated Waste
If you 've seen The Martian, you know Matt Damon survives via the waste of him and his crew. Now we can all survive like never before, with a limited-edition, vacuum-sealed bag of his own wonderful, California-fueled waste.
---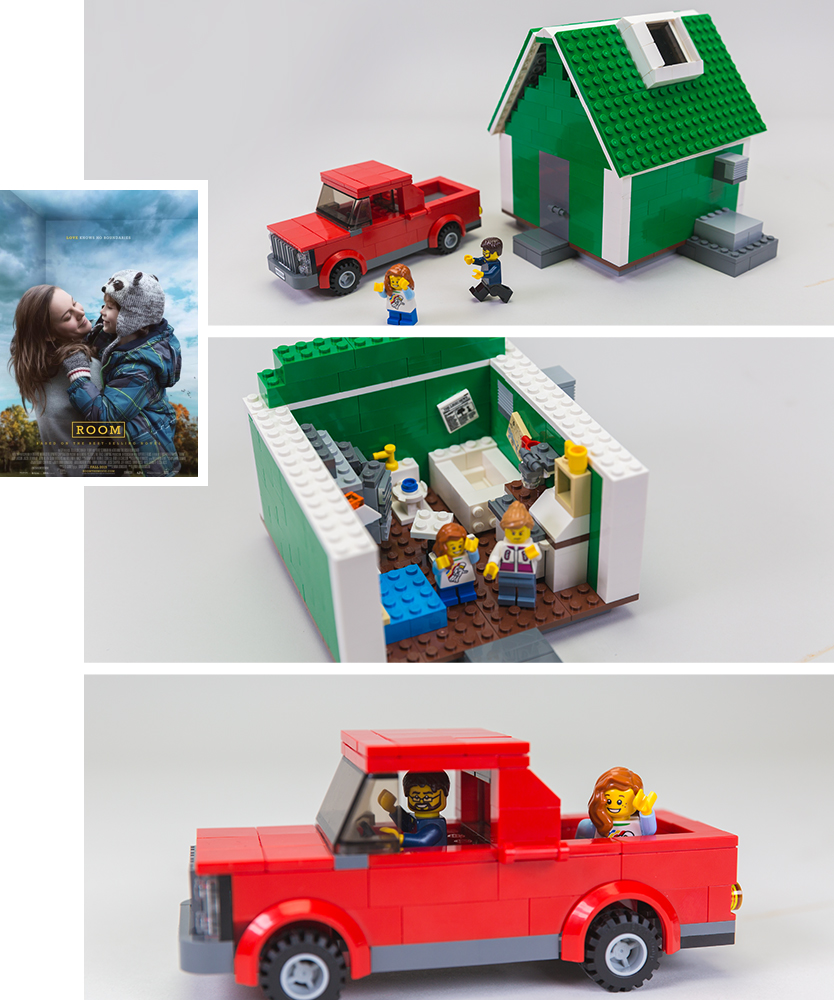 The Room Shed and Red Pickup, exclusively from LEGO
LEGO offers building sets of only the greatest and most worthy of films: Star Wars, Harry Potter, and now, Room.
---
Fully Functioning Mad Max: Fury Road Blood Bag
Now you can give yourself the coolest blood transfusion ever, using the 'blood" of Hollywood 's greatest blood bag, Mad Max. Each finely-detailed doll is filled with two quarts of universal Type O blood. Can also affix to the front of your car as a classy and useful hood ornament!
---
#OscarSoWhite Crest Whitening Strips
Who wouldn 't want teeth as white as this year 's Oscars? Now they can be yours.
---
Guess Who? Spotlight Edition
Be just like one of the reporters from the Spotlight team as you try to expose one of 87 guilty priests in this Pillars-Of-Catholicism-shaking-sized revamp of the classic guessing game.
---
A $10,000 Hedge Fund Investment In Bundled Subprime Mortgages
Relive the story of The Big Short with your own garbage investment that 's sure to default and ruin your finances, sense of personal security, and probably your marriage, too.
---
Pet Chris Rock
Pretty self explanatory – it 's a rock named after the host of the Oscars, Chris Rock.