By: Funny Or Die
Other Heroic Things Trump Saw At 7-Eleven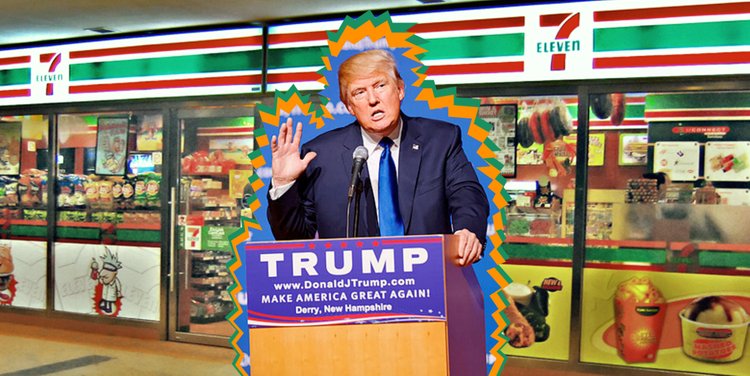 In a speech, Trump said 7-Eleven instead of 9/11:
Because I was down there and I watched our police and our firemen down at 7/11, down at the World Trade Center right after it came down. And I saw the greatest people I 've ever seen in action.

' Donald Trump
Trump making another gaffe isn 't surprising. What is surprising is all of the other times he mixed his memories of heroism on a day of national tragedy with mundane scenes from a gas station that sells hot dogs.
---
'I was there, and I saw a firefighter eat a hot dog and then, even though he was getting full, he ate another one. Beautiful. '
'I saw, with my own eyes, Wawa employees celebrating on the roofs of gas stations in New Jersey. '
'I eat more dollar slices of pizza at 7/11 than anyone, ask anybody, they 'll tell you, I have eaten a LOT of 7/11 food. '
'The real heroes of 7/11 are the first responders and 4am hot taquitos. '
'So many people running in and out of that building and yet the store manager made sure he was always fully stocked with my favorite flavor of Trident gum. To me, that was huge. '
'I once saw a teenager mix two, three, four maybe even five different types of soda together from the fountain. Beautiful, are you kidding? I love this city! '
'I saw two Marines completely covered in dust after polishing off a dozen powdered donuts. '
'There are people who will tell you that jet fuel can 't melt pre-made plastic-sealed sandwiches, but I was there and I saw it. Sad. '
'I remember the thousands and thousands of dollars I won from scratch off tickets. I get chills thinking about it even now, because I 'm so dang rich. It 's nuts, right? '
'Let 's never forget there were also 7-11s in Pennsylvania and at the Pentagon. '