By: Funny Or Die
My Name Is Geff Gonson And I Know GIFs
I 'm Dr. Jeff Johnson (which, I 'll have you know, is pronounced Geff Gonson), and I 'm a medical doctor of visual communication and part-time Jesse Williams body double. In case you 've been living under a .JPEG for the last decade and you don 't know what a GIF is, a.) I 'm concerned about you but also mildly impressed, b.) A GIF is a looping digital video that, in the right hands, can be used to bring incredible joy to anyone in your vicinity, and c.) You 're welcome! Once I caught wind of the GIF craze sweeping the nation, I packed up my belonging (I live a modest lifestyle) and set out for the new linguistic frontier. My compass, the incredibly sarcastic Ebroji app, available for iPhone/iPad and Android.
Since Ebroji 's curated GIF keyboard is the beacon of all digital pettiness and emotional articulation, I hunkered down in my mother 's basement lab and set about the business of creating the most specific GIFs imaginable.
Ultra Specific Gifs For Every Situation
With enough views, this video will catapult me into a coveted internship at Ebroji headquarters (seriously please share and get me out of here! I can 't stand working with Jerald anymore).
Now please enjoy the following hyper-specific GIFs!
That feeling you get when you catch your little sister painting all over your collection of first edition Teenage Mutant Ninja Turtle action figures:
---
When you 're meeting your boyfriend 's parents for the first time for dinner and they don 't season their food but you have hot sauce in your bag so you have to slink down awkwardly and try to grab that bag with your foot under the table:
---
When you 're mad at your mom for throwing away your childhood Gameboy but you know she was right to do it because it was tearing your family apart:
---
When you told me our double date was at a themed restaurant and I showed up wearing my 90s backup dancer outfit and you all came dressed normal and laughed at me ' but I still got laid!:
---
When the teacher tells the class to partner up and you part the desks like the Red Sea to get to your friends but some new kid taps you on the shoulder and asks you to partner up and you look to your friends to bail you out but they 're having the time of their lives without you: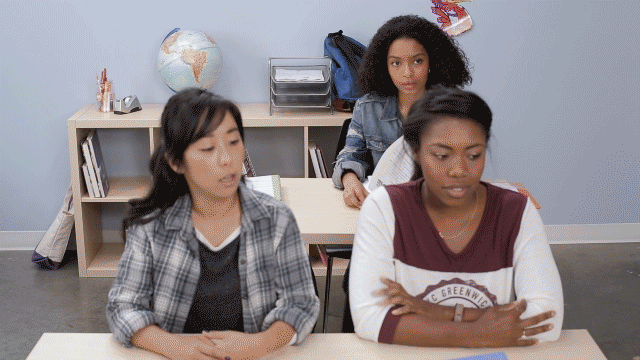 ---
When you still have a Blackberry but they include you on the group text and it 's lit with GIFs but you can 't make them out 'cause they 're mad small so you 're squinting at your phone in a cafe, like an idiot: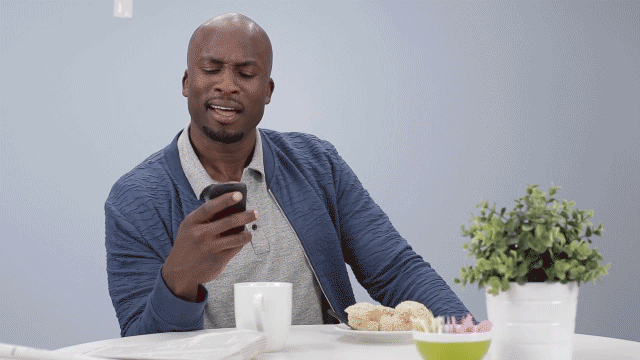 ---
And for all you GIF scientists out there ' TFW you confront your fellow GIF scientist for stealing your kombucha from the breakroom:
---
Ebroji app is co-founded by Aryn DrakeLee-Williams and actor Jesse Williams (@iJesseWilliams). Follow Ebroji on Twitter, Instagram and download for iPhone/iPad and Android.