By: Jack in the Box�
The Best Moments From The Cravings Hotline With Casey & Joe
Here are the top moments from our live video of The Cravings Hotline with Casey & Joe.Craving more? See the entire video here
The hosts of this internet show start off by showing how in touch they are with the internet.
His mouth says one thing, but his everything else says he doesn 't know what that one thing means.
Speaking of using words you probably shouldn 't.
What makes these guys craving experts and sandwich connoisseurs? Well, for one thing, their attention to detail, especially when it comes to ingredients.
Hey, we found your college roommate. He 's still saying college roommate stuff.
We regret to inform you that your slogan for Jack In the Box 's Brunch Burger is neither good French nor good slogan.
You could argue this is about the time the guys started losing their minds. Or you could argue they never had them when they started.
But seriously, they lost their minds.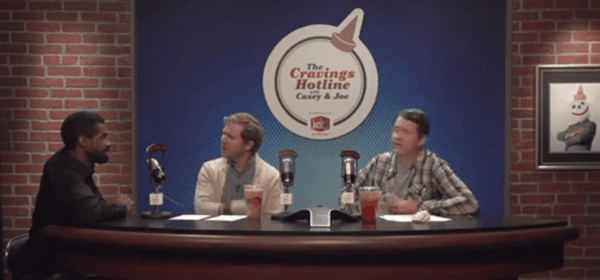 It 's a visit from brunch historian Ron Brunch ', and the guys aren 't afraid to get into the weeds with a very technical question about the nature of brunch.