By: Claire Cooper
You Won 't Believe Where These 2013 Puppy Bowl Puppies Are Now!
Penelope, TE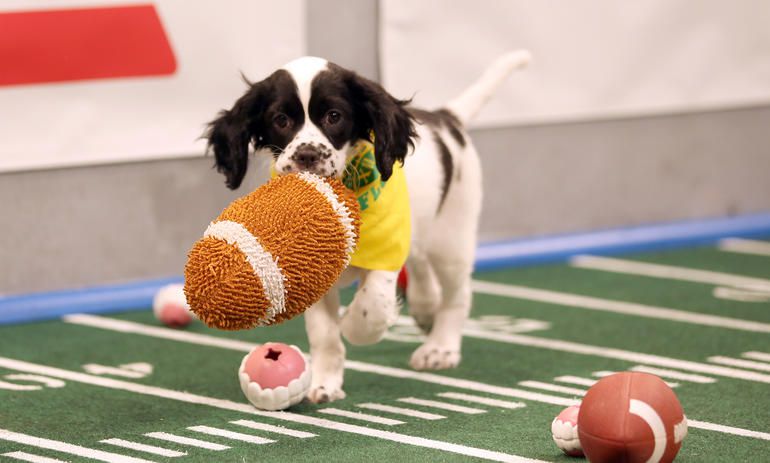 Immediately after Puppy Bowl IX Penelope shot to fame as one of the recurring hosts of Fox NFL Sunday. You can catch her, along with Michael Strahan and Terry Bradshaw, every Sunday at 12pm ET on the Fox network.
Wiggles, WR
After being named Most Valuable Puppy of 2013, Wiggles was well poised for an illustrious career in sports. That was until the 2014 off-season when he signed on as a contestant with Dancing With The Stars and tore his ACL. The damage was irreparable, forcing the spritely prodigy into early retirement. Wiggles is currently being treated for depression and opioid addiction at a luxury rehabilitation center in Costa Rica.
Crumbs, RB
Shortly after Puppy Bowl IX, Crumbs met and fell in love with Aleisha, a whimsical spoodle with a penchant for whistles. Crumbs and Alisha have since retired to the quaint town of Huntsville, Georgia where they operate a small organic peach farm. Their daughter, Lulu, begins college in the fall.
Oscar, LB
Oscar was arrested for drug trafficking in April 2015. He is now serving a life sentence in the Louisiana State Penitentiary.
Buzz, QB
Thanks to NBC 's pan-Asian broadcast of Puppy Bowl IX, Buzz succeeded in capturing the eye and affections of Chinese billionaire, Sun Lee Jiu. Within minutes of the final siren sounding, Jiu 's team of lawyers had the adoption papers squared away and a private jet en route to collect the dashing pup. Nowadays Buzz (since renamed Bao Zhi) lives in his own 12-bedroom petit palace on the outskirts of Beijing where he regularly entertains foreign dignitaries.
Holly, LB
Holly is currently serving an 8-month suspension in her local doggy league for lying about her age to secure a place on the 2017 Puppy Bowl roster (NY State Law stipulates all Puppy Bowl puppies be under 12 months of age. Holly is now 4). In addition to her suspension, the scandal also cost Holly her $10,000 Gillette sponsorship deal.
Rippa, QB
Rippa is currently suing the Puppy Bowl franchise for CTE. As this case is ongoing, we are not at liberty to discuss any details at this time.
Tiger, RB
For Tiger, the adrenalin of scoring the winning touchdown of Puppy Bowl IX was enough to get him hooked on puppy bowling for life. He now consumes an extreme amount of protein powder and runs one of the country 's top puppy bowl training camps. He is rumored to be good friends with the Brady-Bundchens.
Berry, TE
Sadly for Berry, all the hype and bright lights of Puppy Bowl IX sent her spiraling into an epic breakdown. To escape the spotlight, the reclusive pup went underground in the spring of 2013, reportedly adopting a new identity. She is now believed to be living in a remote town along the Canadian border, going by the inconspicuous alias name of Madonna.