By: Funny Or Die
Mar-a-Lago To Serve Grilled Climate Scientist As Weekend Special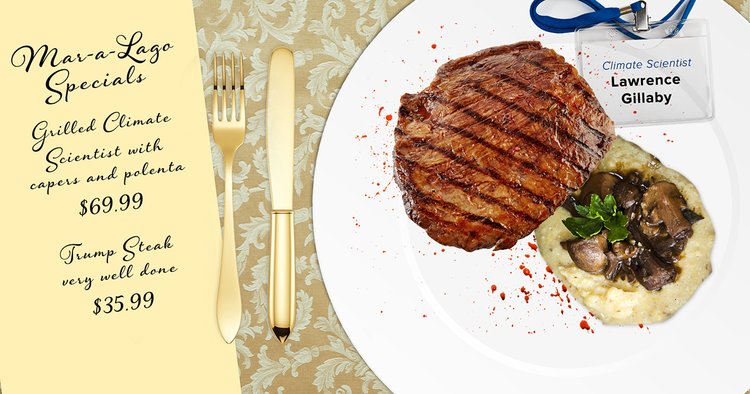 The online menu for Donald Trump 's Mar-a-Lago resort in Florida is listing 'Grilled Climate Scientist with capers and polenta ' as its featured special this weekend. The dish is listed at $69.99 and includes an article of clothing from the murdered and cooked scientist as a side garnish.
The deceased, named on the menu as Dr. Lawrence Gillaby, 51, from the University of Hawaii 's center on atmospheric studies had been missing for a few days now, presumed lost in a scuba accident. Now that his true fate is known law enforcement officials in Hawaii were quoted as saying, 'This is truly horrific. But if the President wants to eat him, I guess he can eat him. I 'm not losing my job over this. '
When reached for comment, Mar-a-Lago 's executive chef, Alonzo Huertes was very forthcoming about the controversial menu item. 'The Trump boys? They like to kill. And they desperately want to make their Father proud. So they planned this and Donald? He love the idea, ' said Chef Huentes in between yelling at workers in the background to keep it down.
'I season and tenderize the Scientist overnight in a marinade and grill him over open flame. I know this is straight up murder and cannibalism but it really is tasty. We also have a Mahi-Mahi this weekend and a squash soup, ' continued Huentes before finally losing his temper at the line cooks in Portuguese.
Dr. Gillaby 's wife was barely coherent as she took in the shocking news of her husband 's transformation from respected scientist to entree, saying, 'Ahhh!! How? ' How can this happaaahhhhh!!! They 're eating him and everyone walks around talking about the fucking NBA playoffs and Coachella?!!! Aaarfghhhhh!!!! '
Of course the special is only available to the President and other members of the 200 thousand dollar a year private club.
For membership info please contact Rachel Gestell at MarALago.com.