By: Ru Paul's Drag Race Recaps 4 Your Nerves
19 Sick'ning Screen Grabs + Pithy Commentary From Last Week's Ru Paul's Drag Race
Last week, Charlie Hides went out with a whimper. Luckily, this week starts with a BANG when Ru enters the workroom '
1. Ru Paul In Pink + Pin Wheels Yes Gawd!
Look at that suit! Serving you Tie-Dyed Art Deco Easter Realness. I love. It 's hard to believe Ru got on Time Magazine 's 100 Most Influential List *before* they were aware of this suit. But the hits keep coming, as Ru then calls out '
2. Oh, Pit Crew!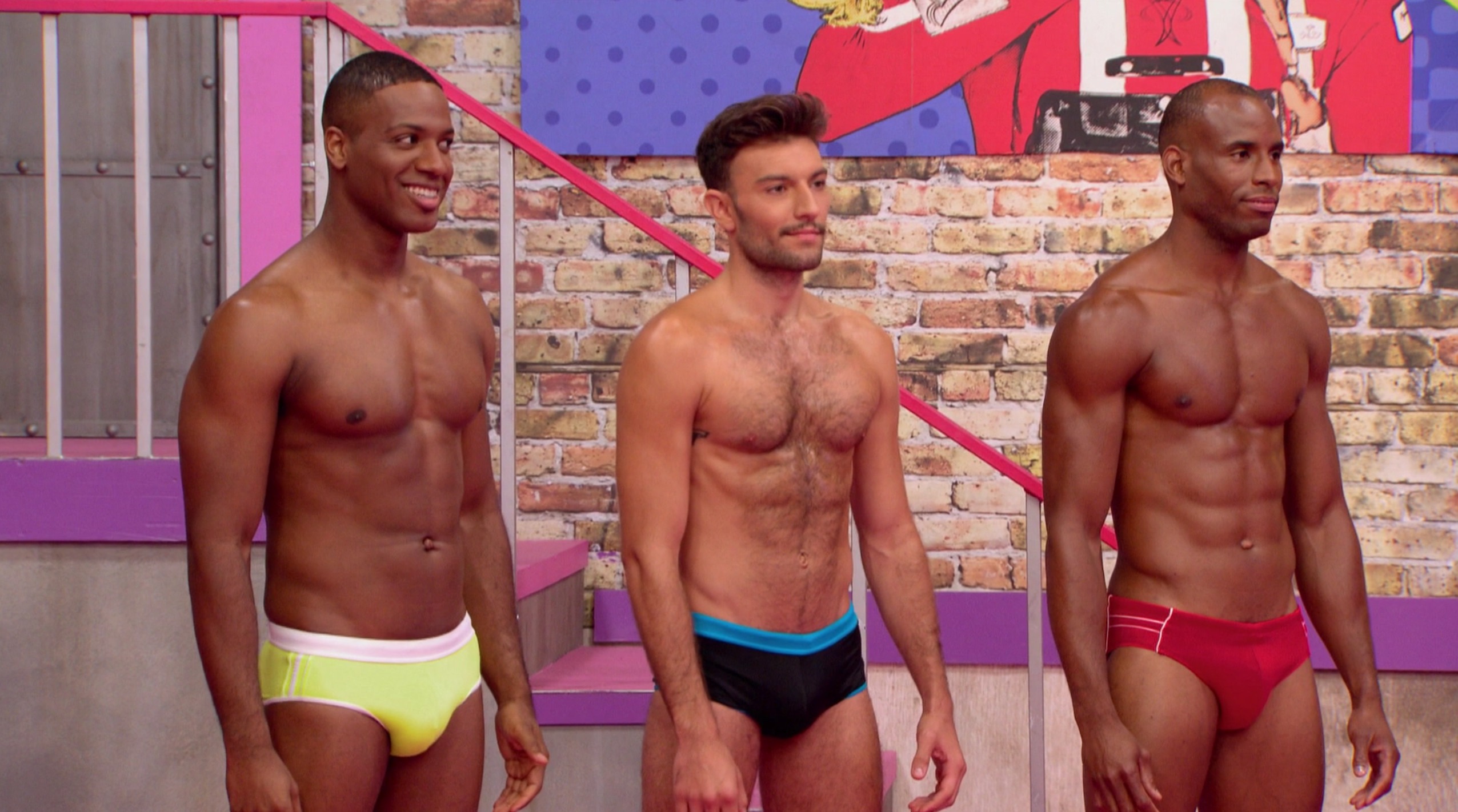 We haven 't seen enough Pit Crew this season, for my money. I would blame VH1, but this is the network that gave us 'Dating Naked, ' so they aren 't really known for being high class. Either way, it 's good to have the boys back and this year they seem to be sponsored by nothing other than their own beauty. Let me also add that I *really* like the one on the right. But especially the one in the middle. But especially the one on the left. But especially the one on the right. But especially the one on the left. But especially the one in the middle. But especially the one on the right. Ad infinitum.
3. The Mini Challenge Returns
And now we get a mini challenge?!? What is this, Seasons 1-8?!? For this season 's inaugural mini, the gals have to take a sexy selfie with the Pit Crew. Here, Peppermint is going for some Annette Funicello Beach Party vibes but, like, gay. Here are some of my favorites:
4. Valentina Bros Out
This made me laugh. How fragile is the pageant of masculinity!
5. Cynthia 's Blurry CuCu
Slutty Latino Mom Glamour! Out of focus and all! And the winner is '
6. Alexis Michelle Looks Like Your Long Island Aunt
The hat really sells it. You gotta protect that skin from that sun, children! Alexis is deemed the winner and so gets to assign the parts for this week 's maxi-challenge, a lip sync extravaganza entitled Kardashians: The Musical. The roles are divvied up: Farrah as Kylie (duh), Cynthia as Kim ( 'cause cucu), Peppermint as Britney Spears ( 'okay), Shea as Black Chyna 'but wait! Nina said *she* wanted Black Chyna. Luckily, Nina 's got a great poker face, I 'm sure it won 't show she 's upset '
7. Nina Freaks Out
JK lulz, Nina ain 't having it. And she 's not just mad, she 's also convinced that this move, making her lip sync as Khloe Kardashian, is somehow an attempt to sabotage her. Nina is the Alex Jones of Season 9 and conspiracy theories abound! But again, this is one of the blessed things of this show, that *this* constitutes as drama. Is this even television? Thank GAWD yes.
8. Todrick Helps The Girls
Todrick is here to help the queens with there choreo, aided by his non-speaking twink assistant, Chester. I like Chester. He 's got the standard queer haircut, but thrown in some pink highlights because he 's fun. He 's got a designer sweatshirt, but it 's distressed because he 's real. He 's got a big black folder, full of his choreography blueprints, full of his dreams 'do dancers use blueprints? IDK tho '\_(?)_/ ' .
Anyway, enough about my boyfriend Chester 'on to the challenge!
9. Cynthia as Kim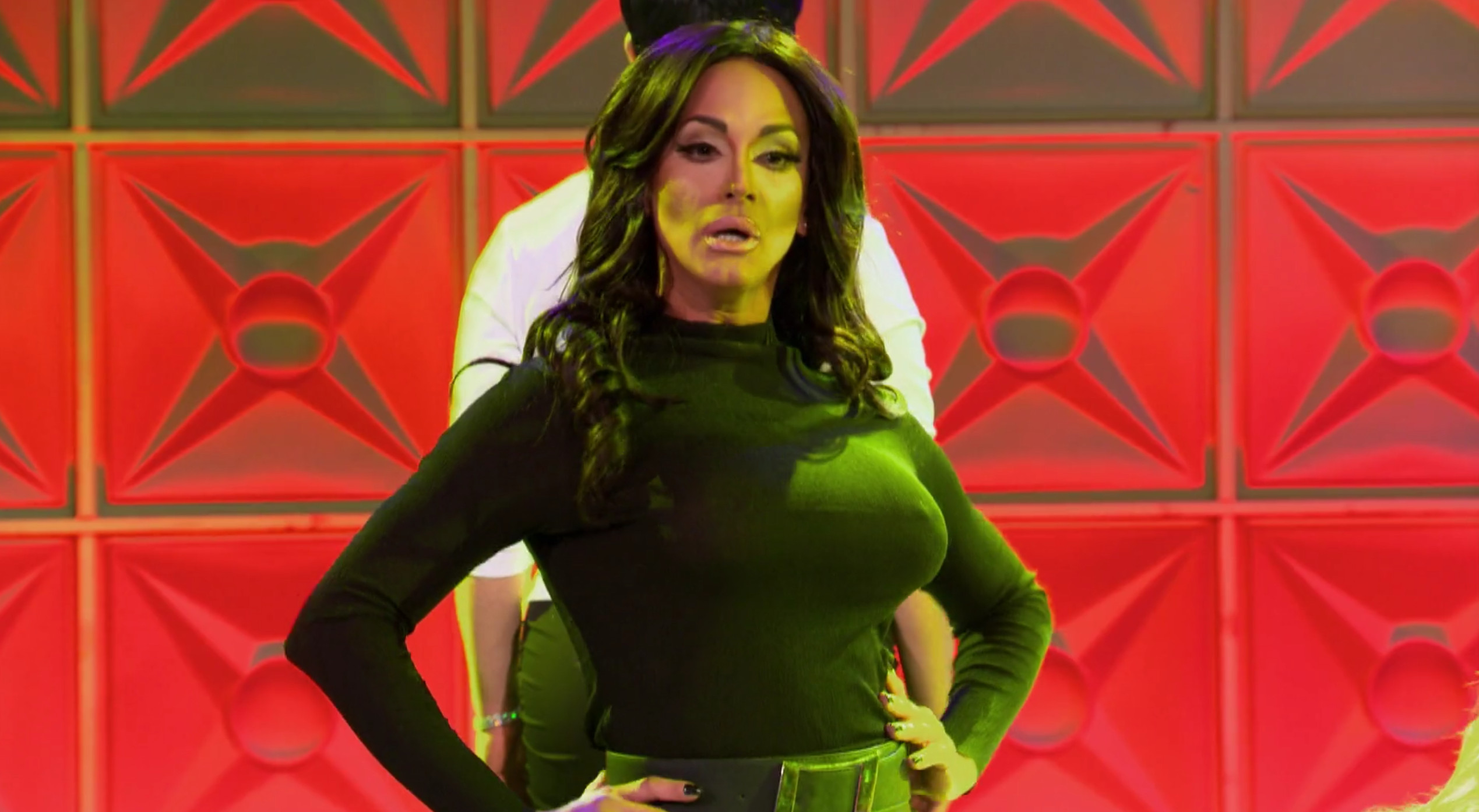 Cynthia certainly looks the part, but seems to not know any of the words. But in a way, Kim K seems to live like she doesn 't know the words, so maybe this is spot on?
10. Peppermint as Britney
I mean, WOW. She really nailed it. Between this and her 'there 's only one Black Chyna and three black girls 'ya gonna have to play a white girl ' line, Peppermint is the *star* of this episode. And it 's about time. A lot of y'all were hating on Peppermint, but I knew she had it in her! Leave Britney alone!
11. Eureka as North West
I mean, truly, this might be Eureka 's best look of the season. Nice to see her with some HAIR for once. Live!
12. Alexis as Kris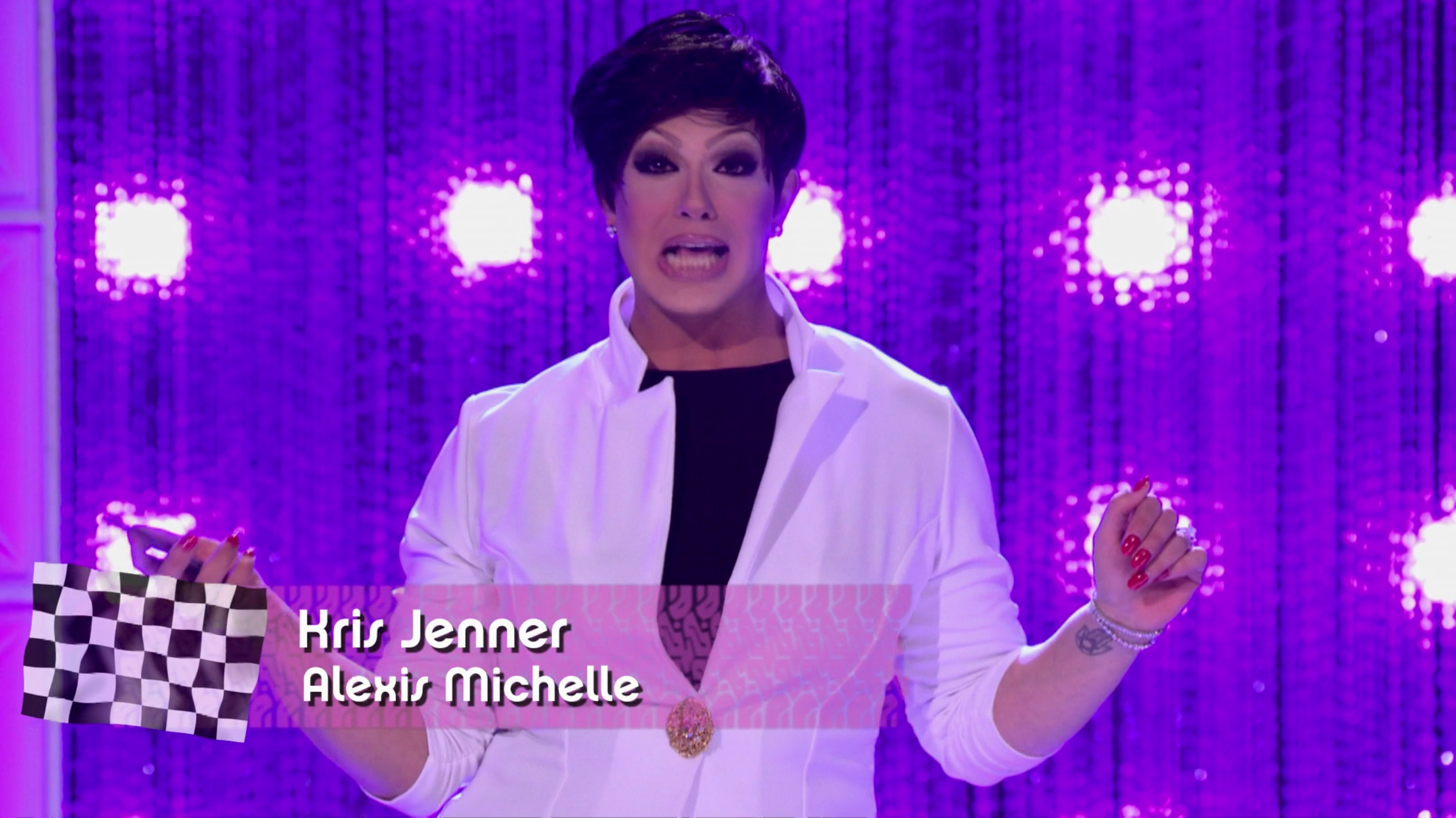 Another spot on drag impression. Dragpression? No, that makes it sound like you 're in drag and depressed. Anyway, Alexis nails this one. She 's funny, she knows the words, the look is fierce. This could be her 's to win, if she nails the runway '
13. Oh No, She Didn 't Nail The Runway
The category was Faux Fur Fabulous, but this is more Faux Fur Faux Pas. The dress just doesn 't work. And here I was hoping for Alexis to do well! Ugh, now *I 'm* the one who 's dragpressed. It 's another quick runway, but we gotta give some love to a couple looks:
14. Eureka Is Gay Tiny Tim
She 's honestly serving us Christmas Carol meets Xanadu and I 'm loving it. Godbless us, every cunt.
15. Shea 's Our Winner
And deservedly so! What a fun Anime chic look from Shea. That 's two wins in a row for the Chicago queen and I can now formally declare that I am Team Shea. Mark it in your ledgers! Ru gives out the tops and bottoms and puts Farrah Moan and Cynthia up for elimination mostly due to their less-than-inspired work in the challenge. Nina gets a a 'you gotta start believing in yourself ' kick in the pants that results in this STIRRING image:
16. The Tear! The Drama!
I mean, my GOD, this is iconic. Godbless you, Drag Race. Farrah and Cynthia give us a B+ lip sync. To me, it feels like Farrah should go. But then 'but then! 'Ru has a 'producer ' come out (with a head set and all) and the producer conferences with Ru (because of course) and then Ru says she has to leave set to think this over (because of COURSE) and everyone is aghast, queen and viewer alike. Double ewe tea fuck is going on? Ru returns after a moment that I 've now heard the queens say on Reddit was actually like a full half-hour and calls forth 'Eureka???
17. Eureka Goes Home
For health and safety reasons, Ru has decided Eureka must go home and rest that knee. It 's a shame since this was a pretty stellar week for Eureka. She 's really gonna be one to look out for next year, as she will not only enter the competition prepared ay eff but will also get to watch herself on the TV and maybe check her rude dude attitude a bit.
18. The Queens Embrace Eureka
The gals are shocked by this turn of events, so they leave the backline for a group hug and send our departing queen off with grace. There 's lots of tears and Eureka speaks of how lovely it was to leave knowing how much her fellow queens supported her. Even Ru seems a bit choked up by it all:
19. 'JK This As Emotional As Ru Gets
I mean she 's a cyborg, sure, but I can see a tinge of sentiment around the eyes. It 's not like she 's gonna fucking break down because the big queen went home. She 's one of the 100 most influential people alive! She 'll save the tears for a double shantay you stay.
That 's it for this ep! Sorry to see Eureka go, but hopefully this lights a fire under the ass of Farrah/Nina/Cucu/Alexis. 'Til next week!