By: Sam Naismith
Ten Best Cities To Visit For People That Want To Get Attacked By Dogs
America is loaded with a variety of beautiful cities to visit. From St. Louis to San Diego, there are literally thousands of towns with endless attractions you could visit this summer. No one U.S.A. city is the same. However, one thing every city has is dog attacks. If getting attacked by a dog is something you 'd like to experience this summer, then these are the ten best cities where you can accomplish that.
---
Minneapolis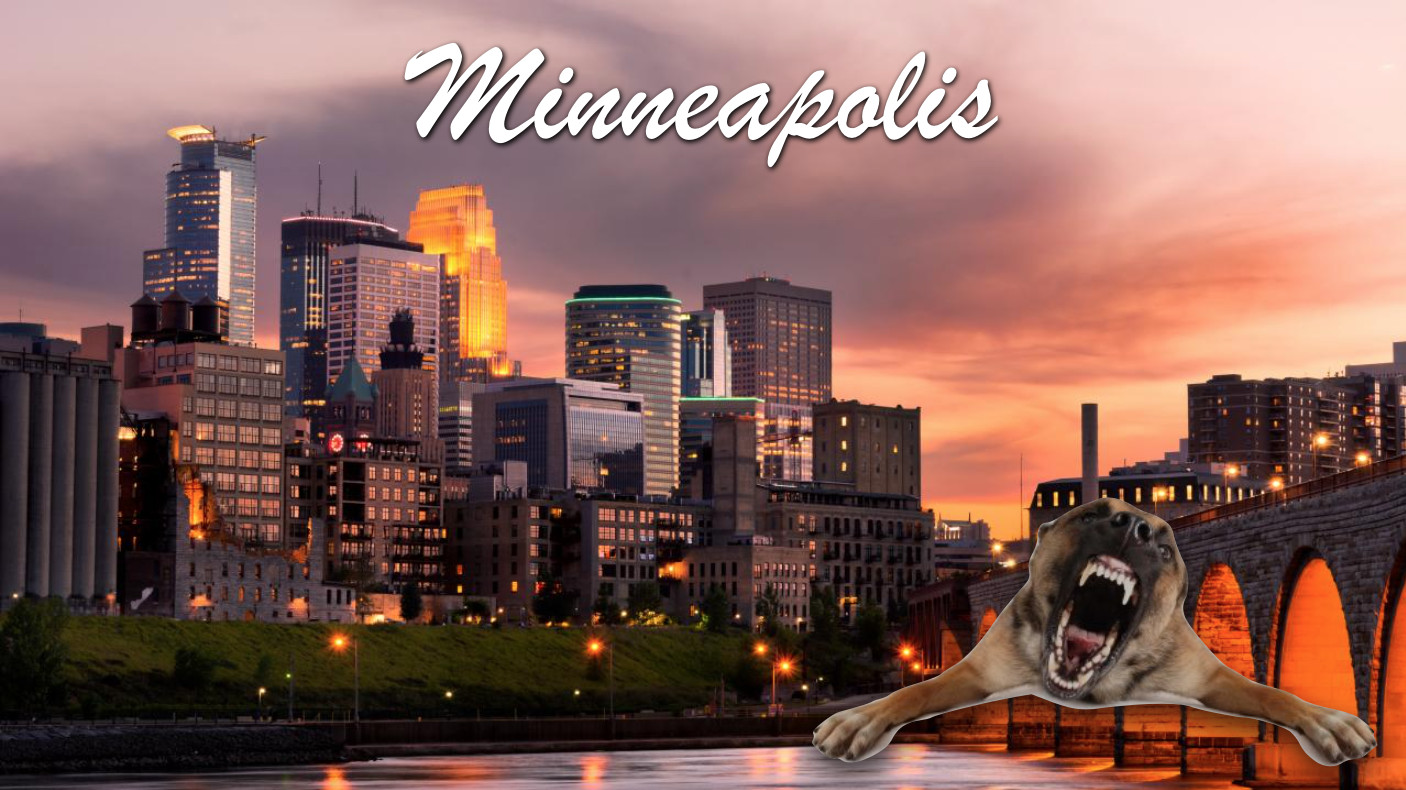 One half of Minnesota 's 'Twin Cities, ' Minneapolis is a beautiful summer vacation destination. There are plenty of beautiful natural parks and lakes to see such as the Mississippi River, which bisects Minneapolis and Saint Paul. It is also home to the tenth highest rate of dog attacks on mail carriers (35 in 2016). Nothing is funnier than a mailman getting attacked for doing his dumb job. However, I can not guarantee that you, a non-mail carrier, will get bit by a dog. So, it only makes it to ten on this list.
---
Denver
Denver is one of the original old-west cities, so it features landmark 19th-century buildings surrounded by spectacular mountains. Denver is perfect if you 're looking into doing some summer skiing. The high altitude makes it harder to breath and you 'd think would drive their dogs crazy. Well, unfortunately, no. These dogs stink. They 're so medicated with medicinal marijuana that they don 't even do what dogs do best: bring pain onto dumbass mail carriers.
---
Louisville
Ah, Louisville. In May, it is home to the Kentucky Derby. For the rest of the year, it 's the southern home of dog bites.
(BONUS) Get attacked by a horse. Why the hell not.
---
Philadelphia
Philly, the city of brotherly love. You wont find a lot of love from dogs here though. Philly dogs will mostly leave you alone unless you are wearing anything other than midnight green (Philadelphia Eagles colors) in that case they will assume you are a Dallas Cowboys fan and rip your hand off with their mouth. It should also be noted that the people of this city will do the same.
---
Houston
In Houston, you won 't have a problem getting a dog to bite the hell out of you, especially if you 're a postal worker. The Rocket City tops the list of most attacks on mail carriers per year averaging right around 62 per twelve months! In my opinion, it serves them right. Get a real job you mail carrying cowards! Houston is also one of the best cities to get bit/stung by a bee but that is for another list at another time.
---
Cleveland
Yeah. So, if you 're visiting Cleveland this summer, you already know you 're catching an Indians game and also getting attacked by one or a gang of dogs. They for sure run in packs in Cleveland, so only go there if you are a pro at getting attacked by big, big dogs.
---
Phoenix
This place is hot with weather but also hot with dogs ready to dig into your meat. Look the hell out if you 're not trying to get attacked by a dog because these boys have been out barking in the desert sun for their whole lives, so the part of their brain that is used for anything other than attacking animals is completely fried. Phoenix also has the Heard Museum.
---
Sacramento
Sacramento is known for being the capital of California and also they have a bridge. However, they do not have too many angry dogs. The only reason it 's so high on the list is because of the city 's terrific urgent care. This place has some nice hospitals. If you 're looking for a one off 'attacked by a dog ' experience with no strings attached, Sacramento 's hospitals make that possible. Why can 't there be a city with real bad dogs and good hospitals? It 's a problem with the system, man.
---
Atlanta
You got a death wish or something, punk? If you go to Atlanta in the summer, you are dead. You will be killed by a dog. Period. It 's not even worth my time mentioning what else there is to see in this city. The second you step off your plane, massive wild dogs will smell you, track you down, and will kill you. I mean, if I 'm being honest, skip this one. I know you want to get bit by a dog, we all do, but this is insane. I 'm not advocating death stunts here.
---
Dog Town
Topping off our list is Dog Town. Dog Town, New Jersey is a town by and for dogs only. Do not visit this town unless you are either a dog or good enough at pretending to be a dog that you can fool a city of dogs. I wouldn 't recommend it as a place to go this summer, however, it is technically the best spot to go if you are looking to get bit by a dog. The thing is, and I 'm serious, visiting this city is guaranteeing suicide by dog, my friend.