By: WWE Recaps
The 14 Things That Kicked Off The Maharaja Era On WWE Backlash
Last night the WWE took what most fans thought would be a transitional PPV event and delivered some serious surprises and upsets.
Let 's cut this promo short and get right to the action!
---
1) Enter Nakumura
The advertising for Backlash revolved around the WWE in-ring debut of Shinsuke Nakumura, one of the most singular personalities in professional wrestling today. If I were to describe his gimmick to you I guess it would be 'contortionist with hand cramps who hits people really hard ' but it 's so much more than that. WWE has taken to calling him The Artist Known As Shinsuke Nakumura which means that Vince McMahon probably just heard about Prince changing his name in the early 90s.
Last night the expectations outweighed the reality here as Nakumura had a pretty basic entrance and match with Dolph Ziggler. No surfing a platform to the ring or mysterious violin player or any of that jazz.
If anything it showed Nakumura can work WWE style matches. What, did you think he was going to come in and wrestle however he chose?
Regardless, the crowd was still ecstatic to see the King of Strong Style pick up a W.
2) BACK ASH
Let 's get a better logo next time, gang.
3) Flashion Police
The Usos overcame the numbers game to retain their titles, defeating Fandango, Tyler Breeze, a mop, a janitor, and a flashing grandma.
Props to the Usos for selling the hell out of the comedy in this match and to Breezango for living the idea of selling whatever the creative team gives you. This match was booked so well the Chicago crowd was white hot for a mop.
If this was their only title opportunity Breezango have at the least used it to show that they will be able to hang with The New Day 's antics once Kofi 's ankle is healed.
4) 'The last time this happened I paid for it. '
5) Lone Wolf
Baron Corbin is a star. He is beyond the standard 'heel ' classification. His work over the last six months has put him in the Asshole Zone. It 's rarefied air shared with guys like Rick Rude, Ted DiBiase, and Donald Trump – people who just can 't be anything but heels.
He and Sami had a hell of a match and Zayn 's victory gives the Underdog from the Underground some momentum for another program or a complete and total savaging from Corbin very soon.
Only in the WWE can you be 6'1″, 200+ pounds and still be called 'the underdog. '
6) UUDDPPV
Xavier Woods ' video game channel has over a million subscribers so it was only a matter of time before they started featuring the show on WWE programming.
Backlash was sponsored by Rocket League so here we get Zack Ryder, Ember Moon, and Brennan Williams playing car soccer.
With The New Day and Kofi 's sneaker collection eventually making their way to Smackdown Live! What about a video game-themed PPV called Up Up Down Down?
Before you say 'that 's a dumb idea ' remember that this is the July RAW PPV show:
7) 'Chicago is full of haters. '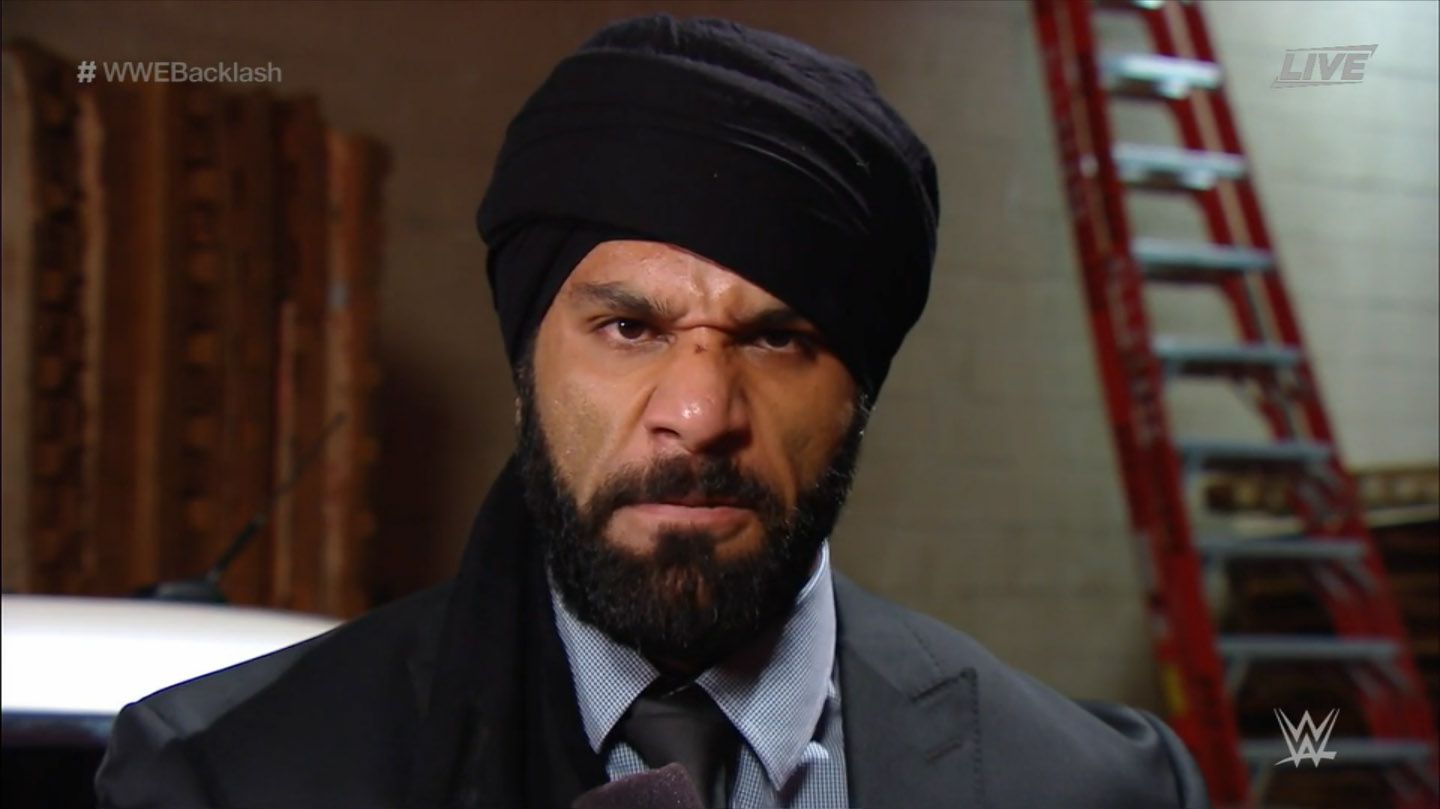 'which Chicago only proved later in the night.
8) James Ellsworth is The Michael Jordan of Sports Entertainment.
I can 't not want to punch this guy in the face when I see him. Ellsworth is playing the character to perfection and his current aesthetic just makes it even better. How would you define his outfits? Vegas Bachelor Party? Guy Who 's Not Allowed Into The Strip Club?
9) Upsets
There were several surprise victories tonight (we 'll get to the big one in a minute) but Becky tapping clean to Natalya was a real surprise. Granted the new stable needed some more victories to establish themselves but I thought some dirty finish with the Michael Jordan of Sports Entertainment coming into play would do it. Instead there was no question here. If anyone was going to tap though and not lose any shine it 's Becky.
10) Who Wore It Best?
11) The New Face of America
If this is the new face then America is gonna be freaking brutal.
Styles and Owens beat the hell out of each other in a match with increasingly violent-looking spots that the live crowd ate up. Styles took the brunt of these huge moves and made Owens look nasty. They showed how much the ugliest title in the company means to them, taking the fight in and out of the ring.
The ending was purposely disappointing and hilarious. It gave Owens yet another chance to celebrate like he 'd just earned the Stanley Cup for the most technical of wins and continues the story between these two. Styles will want a rematch and revenge for that post-match boot to the skull.
12) Henchbilly Showdown
I felt for this match since, like a lot of stuff involving Wyatt Family members, it should have been a bigger deal. Instead the crowd just kinda sat through these two slamming into each other for 10 minutes until Harper put Rowan away with a finisher that even the commentary team forgot to call out.
They tried to develop this feud in the last week with Rowan going all-out with his batshit insanity, popping balloons and huffing into plastic sheep masks, but the crowd just didn 't know enough about either of these guys right now. They 're both really talented but Harper needs more than just 'guy that dresses like Dean Ambrose. ' He 's agile and strong and can connect with a crowd; the company just needs to give the crowd a reason to care about him.
13) I hear voices too, Randy!
14) Mahalland Drive
Wow the faces of disappoint across the arena when Mahal won. Total shock and frustration.
It was great television. Chicago, you did not disappoint.
I didn 't think they were going to do it but here we are with a guy who was losing enhancement matches in August is now the 50th man to hold the WWE World Championship.
It 's a fresh story no one saw coming and everyone is playing to the hilt. I have no idea where they go with this next and I like that. This isn 't David Arquette winning the WCW World Heavyweight Championship. This is Mike Tyson losing to James 'Buster ' Douglas if Douglas had two best friends who were always dressed to hit the club.
Mahal literally transformed his body since the fall and while plenty of people who will look at that change and play connect the bacne it 's still unproven.
Oh and Randy Orton almost killed one of the Singh Brothers.
If you think this was bad booking I 'd like to point out that the advertising for this show revolved solely around the main roster debut of the most electric wrestler on the roster and no one is talking about that today. Mahal has taken the spotlight off of the guy WWE thinks is their future.
The next PPV for Smackdown Live is 'Money In The Bank ' so expect someone to cash in on Mahal very soon.
---
WWE got what they needed out of the Chicago crowd at this PPV. RAW is back on PPV in two weeks with 'Extreme Rules ' where we 'll find out who gets the opportunity to lose clean to Brock Lesnar this summer.