By: WWE Recaps
The 15 Most Extreme Things That Happened At WWE Extreme Rules 2017
VENUE: Royal Farms Arena
CITY: Baltimore, MD
ATTENDANCE: 154,635
WWE RAW has been hot since Wrestlemania and last night the Red Brand put on the stipulation-heavy event 'Extreme Rules. ' Rules that are extreme, or an extreme number of rules? You decide!
Baltimore showed up. A bad crowd can sink a show but they were loud. It made for an even better television experience.
Here 's a look at the most EXTREME moments from last night:
---
1) Rules Intercontinental Championship Match – The Miz vs. Dean Ambrose '
The Miz and Dean Ambrose have been fighting for about three years now. Miz wants to put some prestige back in the Intercontinental Title. Dean Ambrose, meanwhile, needs it to keep his jeans up. Have you ever sweat in denim? Ten minutes in the sun and I may as well be wearing concrete below my waist.
The Miz tricked Ambrose into this match by exposing Dean 's greatest weakness: rules. He hates rules. He 's a lunatic Maggle! Booker T described this as a 'chess match ' because it was going to take a lot of strategy for the champ to retain. Strategy like EXTREME knowledge of rules.
The crowd was WAY behind Ambrose. Miz had him in a double arm stretch for about half a second before the entire arena and staff started up 'Let 's Go Ambrose ' chants.
Ambrose had an answer for everything so The Miz, desperate for a W, asked Maryse to slap him, thus disqualifying Dean and giving Miz the win. Referee John Cone was having none of it, however, and T O S S E D Maryse.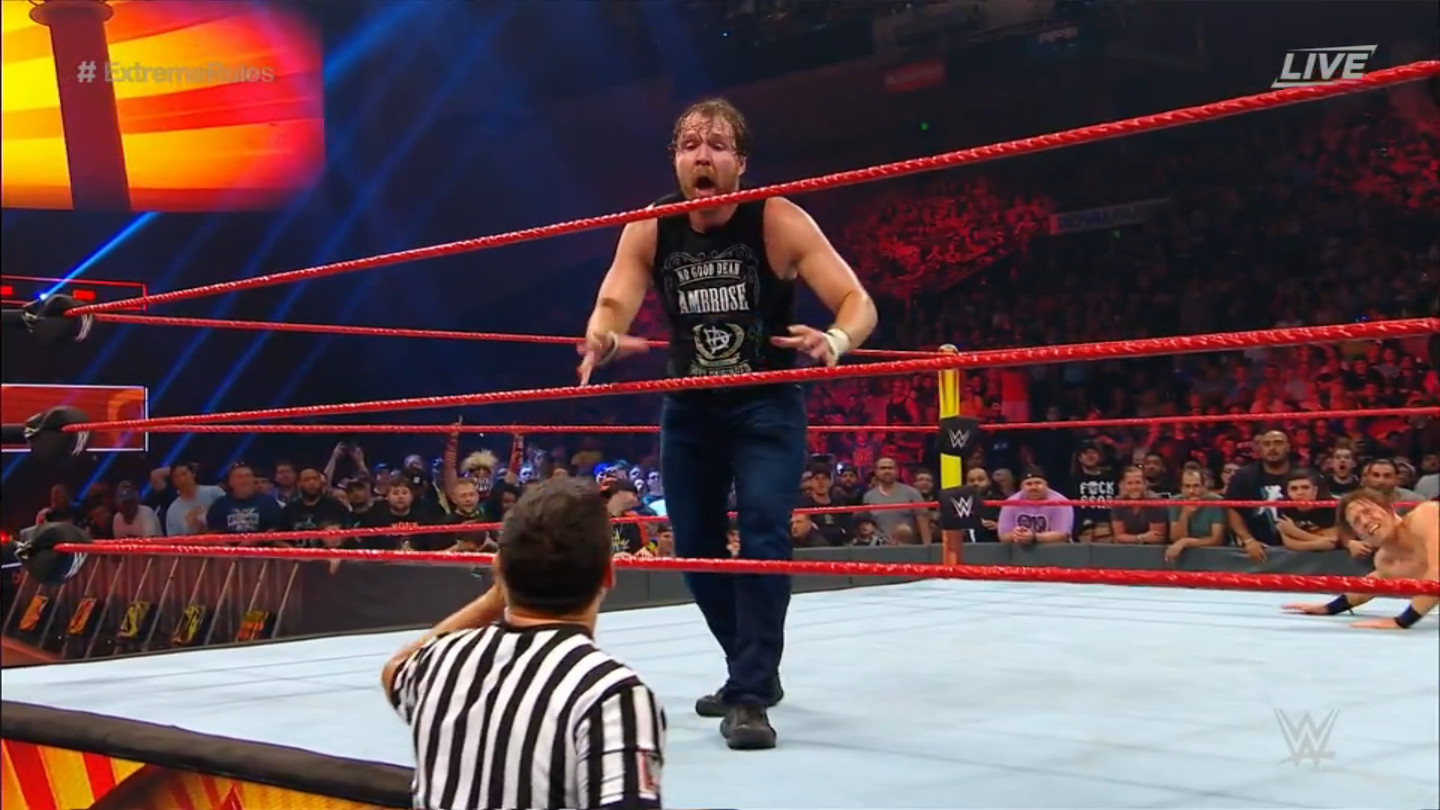 A fired up Ambrose made a comeback until Miz threw the Lunatic Fringe into the ref. Ambrose pleaded with the ref to not disqualify him. As they argued Miz hits a Skull Crushing Finale and takes home the gold, proving that the easiest way to beat Dean Ambrose is to distract him with, you guessed it: EXTREME RULES.
2) New Champ?
New Champ.
3) Those Who Can 't '
Bailey tells us about her training regimen – watching old ECW matches and the movie 'Wonder Woman. ' Hey that 's my training regimen!
4)Extremely Mixed Tag Match – Noam Dar & Alicia Fox vs. Rich Swann & Sasha Banks
This angle, sponsored by 205 Live, has been all about Noam Dar and Alicia Fox being a collective dick to Rich Swann because how else ya gonna get on the PPV? Swann crossed over and brought Sasha Banks to the Cruiserverse and now is the time on WWE when we fight!
After a decent back and forth Banks dropped an unreal double knee from the top rope and Swann hit a wild corkscrew splash for the W, proving that friendship will always conquer love. Swann and Banks danced as Fox and Dar took a walk of shame to the back.
5) Ladies and Gentlemen, Elias Sampson
'Baltimore is bathed in filth ' 'WOW. Sampson hit it on the head here. This crowd straight up DISRESPECTED an incredible gift of song.
Cole thought it belonged on The Ghost of Tom Joad (???) and Booker thought Clive Davis might be watching WWE scouting for vocal talents (???!!!???!!!???).
At least someone appreciated the Drifter.
6) Kendo Stick On A Pole Women 's Championship Match – Bayley vs. Alexa Bliss '
After weeks of accusing each other of not getting EXTREME The Hugster and Lil ' Miss Bliss faced off with the most exciting stipulation in wrestling: A [something] on a pole match! There is nothing more EXTREME than hanging [something] on a pole. One time Buff Bagwell fought in a 'Judy Bagwell On A Pole ' Match where his mom was the [something] on a pole: http://www.dailymotion.com/video/x2zof6/buff-bagwell-vs-positively-kanyon-j/sport.
Cole screams at Network viewers that the Twitter hashtag is #KendoStick. People who win the lottery don 't yell like he yelled here. No human has ever been more excited to say anything than Michael Cole was to say #KendoStick!
Aaaaaand like every good [something] on a pole match the kendo stick fell off the pole. Bayley got the stick first but Bliss recovered and took Bailey to town, including a wicked shot to the back of Bayley 's head.
Alexa gets the win after implanting Bayley with a DDT. Sorry Bayley, you just couldn 't get EXTREME.
STILL CHAMP?
STILL CHAMP.
#KendoStick!
7) Obligatory Athlete Cameo
Adam Jones of the Baltimore Orioles cosplaying as Virgil. No, for real.
8) International Announce Crew In The House!
9) Steel Cage Tag Team Championship Match – Cesaro & Sheamus vs. The Hardy Boyz '
This was an old fashioned STEEL CAGE match where the both team members must escape the cage, and have both feet on the ground, to win. Remember that.
Cesaro and Sheamus rode their new mean streak into the show. Their gear and entrance are dope. But cool gear isn 't gonna win an EXTREME match against TEAM EXTREME.
The crowd was WAY in to the Hardys but we are all just waiting for Matt to become #BROKEN. I 've never seen so many people excited to see a man lose his sanity. We are all still chanting 'Delete ' out here, lawsuits be damned. It 's only getting louder.
The Hardys played the underdsized underdogs. Cesaro and Sheamus hit heavy power moves all match only to find the Hardys damage meter still too low to escape.
Jeff escaped which left Matt vulnerable to some serious double team destruction at the hands of Cesaro and Sheamus. Jeff re-entered the cage hitting a SICK Whisper In The Wind from the top.
Remeber that 'both feet, both men ' rule? Knowing it came in handy as a race to the floor found the European Wrecking Crew landing first and taking the titles from the Hardys.
10) New Champs?
New Champs.
11) No One Was More Upset About the Hardys Loss Than This Kid In The Front Row
12) Submission Cruiserweight Championship Match – Austin Ares vs. Neville '
This feud has been all about beards and bad attitudes. After two straight PPV losses Ares wanted to settle the score like real men: by seeing who could choke whom the hardest.
Both men threw down hard both in and out of the ring.
While locked in the Last Chancery Neville wiggled to the floor where Ares followed and locked it in again. Neville tapped but it was outside the EXTREME confines of the ring ropes so it did not count.
A missed suicide dive by Ares and Neville took control again, hitting a Red Arrow and knocking Ares silly, leaving A Double no choice but to tap.
That 's three in a row for Ares, the former TNA champion, which should probably put him out of the Cruiserweight Title picture for a while. Neville, meanwhile, continues to look like a wrecking ball in this division. The heel turn finally gave him his first real momentum since NXT. Who, though, is next in line for a shot at the purple strap?
Still Champ?
Still Champ.
13) The Logo For The Next RAW PPV Looks Like A Dong
#Balls2017
14) Where Was RAW GM Kurt Angle?
He was busy getting catcalled by my brother in Pittsburgh.
15) Fatal Five Way Extreme Rules Match – Roman Reigns vs. Seth Rollins vs. Bray Wyatt vs. Samoa Joe vs. Finn Balor
Our main event was a Fatal Five Way where to win one must murder all other opponents.
These guys murdered each other.
Twenty five minutes of pure carnage, including a frog splash through a table, the 1000th suicide dive of the night, a spear through four rows of fans, and a final five minutes that had the crowd all kinds of loud. Finn Balor was three seconds from headed to #Balls2017 after he murdered Roman Reigns with the Coup des Grace.
But Samoa Joe, from outta Samoa Nowhere, snuck in and choked Finn Balor to death.
The ref called for the bell and we have our challenger for the WWE Universal Title.
Loud 'Joe ' chants after the match as the other participants respawned where they died.
---
---
A real fun event and a very good main event match.
We are back in two weeks with Money In The Bank, when Smackdown 's finest risk their careers in a ladder match to retrieve a briefcase full of paperwork.
#KendoStick!