By: Ru Paul's Drag Race Recaps 4 Your Nerves
16 Sick'ning Screen Grabs + Pithy Commentary From Last Week's Ru Paul's Drag Race
This week is our Top Four episode, in which the remaining contestants must really prove their worth by competing in challenges that represent the most fundamental of drag queen skills: lip syncing, working the runway, and shilling for Casper mattresses on Ru 's podcast. Who will make it to the Finale? Who will be arbitrarily cut after receiving almost exclusively positive feedback as often happens in our Top Four ep? Only time will tell. Specifically, an hour 's worth of time! Or 42 minutes minus commercials. Let 's get to it:
1. Michelle Greets The Queens
As has become tradition for the penultimate episode, Michelle comes into the workroom and gives the queens the score. In addition to the runway/lip sync/podcast, the queens will be writing original verses to contribute towards a now-available-on-iTunes remix of Ru 's hit 'Category Is ' ' And hoo boy, what a group of gals to be tasked with 'rapping. ' I 'd say we 're in for a treat. Up first '
2. Shea 's In The Studio
Shea is the first to lay down her part under the guidance of porcelain doll YouTube star Todrick Hall. Shea 's flow is fast, like Twista-in-a-time-crunch fast, so she often has trouble getting all the words out. But Shea is confident and Todrick is impressed, this could be a good week for her.
3. Trinity Struggles
Trinity, godbless her heart, hits the studio and immediately struggles. She opens with one of the cardinal sins of 'white people rapping ', saying your name and then asking this listener if they can see. This causes our producer to react as such:
4. 'WTF ' '
Color him not impressed. Todrick stops Trinity and says she 's giving us maybe 35%. Trinity agrees to amp it up. She attempts her verse again, now with more gusto, this time finishing the couplet and letting us know that what we can/cannot see is that she 's 'got a lot of plastic parts up in me ' which then causes our producer to react like this:
5. 'Okay But Like Really WTF ' '
Yeah. It 's bad.
6. Peppermint Raps About Being Peppermint-y
Peppermint, who energy is joyous even when her drag is not, hits the room smiling. She impresses Todrick right away with personality she exudes on the mic, though she spends a lot of time rapping about how she 's sugary sweet and minty fresh and a confection, which is maybe a bit on the nose for me. But she 's clearly in her element and has more experience as a rapper/singer/entertainer than the rest of our queens combined, so I 'm sure she 's gonna turn it out.
7. Sasha Overthinks It
As is now habit, Sasha approaches the task cerebrally, having prepared something resembling more of a spoken word dissertation than a fun feature verse. At one point, Todrick tells Sasha she sounds more like she 's talking into a voice mail than rapping, but to be fair, Gucci Mane has made hits recorded on phones from prison, so maybe it 's not entirely a criticism.
8. What 's The Tee?
Interspersed through all this are clips from the queens ' tapings of Ru and Michelle 's podcast 'What 's The Tee? '. Above is Sasha receiving a Squatty Potty mere seconds after talking about the death of her mother from cancer, which pretty much sums up how the tapings go.
9. Ru Paul On The Runway
Ru comes out looking like Ice-Nine and I 'm loving it. This is one of my favorite Ru looks of the year! The bar has been set and the queens must rise to its chilling height for this runway. But first, they queens must perform!
10. Category Is '
The performance actually goes pretty dang well. The choreo is tight and the raps aren 't half bad. Even Sasha 's 'I 've got a master 's degree ' take on rap is given some life when she crawls across the stage like a fucking banshee woman. Only Trinity looks a little uncomfortable, but in truth, everyone comes out looking pretty good. It 's one of the rare Drag Race numbers I might even watch again, if you can believe it. To cap the week off, the queens present their final runway looks:
11. Peppermint
I love this look from Peppermint! It 's stately and regal in a way that many of her looks haven 't been this season. Between this and her performance, Peppermint really shines this week. I would have thought her the most obvious choice to go home, but gosh darn if Pep ain 't pulled this one out and made her case to be considered for the crown!
12. Sasha Velour
This runway is a win, but it doesn 't necessarily wow me in the way the Peppermint 's did. Some of that is due to expectations, as Sasha has slayed most every runway and this look is obviously more of the same. But it 's also maybe, to its detriment, more of the same, as it 's certainly a style we 've seen from Miss Velour before. So do we fault her for being consistently fab? Was I giving Pep undue praise for having pulled it together after wearing shitty pink skirts for three weeks there in the middle of the season? Ultimately, though, Sasha 's certainly staked her claim for being in the finale this season and I 'd say this runway only confirms it.
13. Shea Coulee
Similarly, Shea serves us a look we 've sorta seen from her before, but this is likely the best version of it, so again, I don 't have a bad word to say. Shea 's been positioned by the show as the favorite, even awarding her some wins that I would call debatable, but there 's no denying she is strong at virtually everything she does. Also, her verse on 'Category Is ' ' really was like gay Busta Rhymes. I 'm hard-pressed to kick Shea off, but now our math is getting tricky. There are FOUR queens this week and there need to be THREE next week which means ONE has to go, right? RIGHT? At this moment, I got a sinking feeling. What if Trinity, the trashy Orlando queen whose won my heart, has to go home this week? She 's been fierce all season, but if anyone struggled in the challenge this week, it was her country ass. She 's going to need a killer runway to make her case for advancing '
14. Trinity Taylor
And then the bitch delivers. I love the gown. I love the wig. I love that she 's finally serving us classy-pagaent-queen after a season of mostly fun-slutty-gal-who-married-your-cousin-who-owns-multiple-trucks. This is my favorite runway look of the week, and like Pep, it surprised me. Dang it all to heck, these queens all really delivered! There 's only our final Lip Sync 4 Your Life left to aid Ru 's decision, but before that '
15. The Queens Talk To Their Kiddie Selves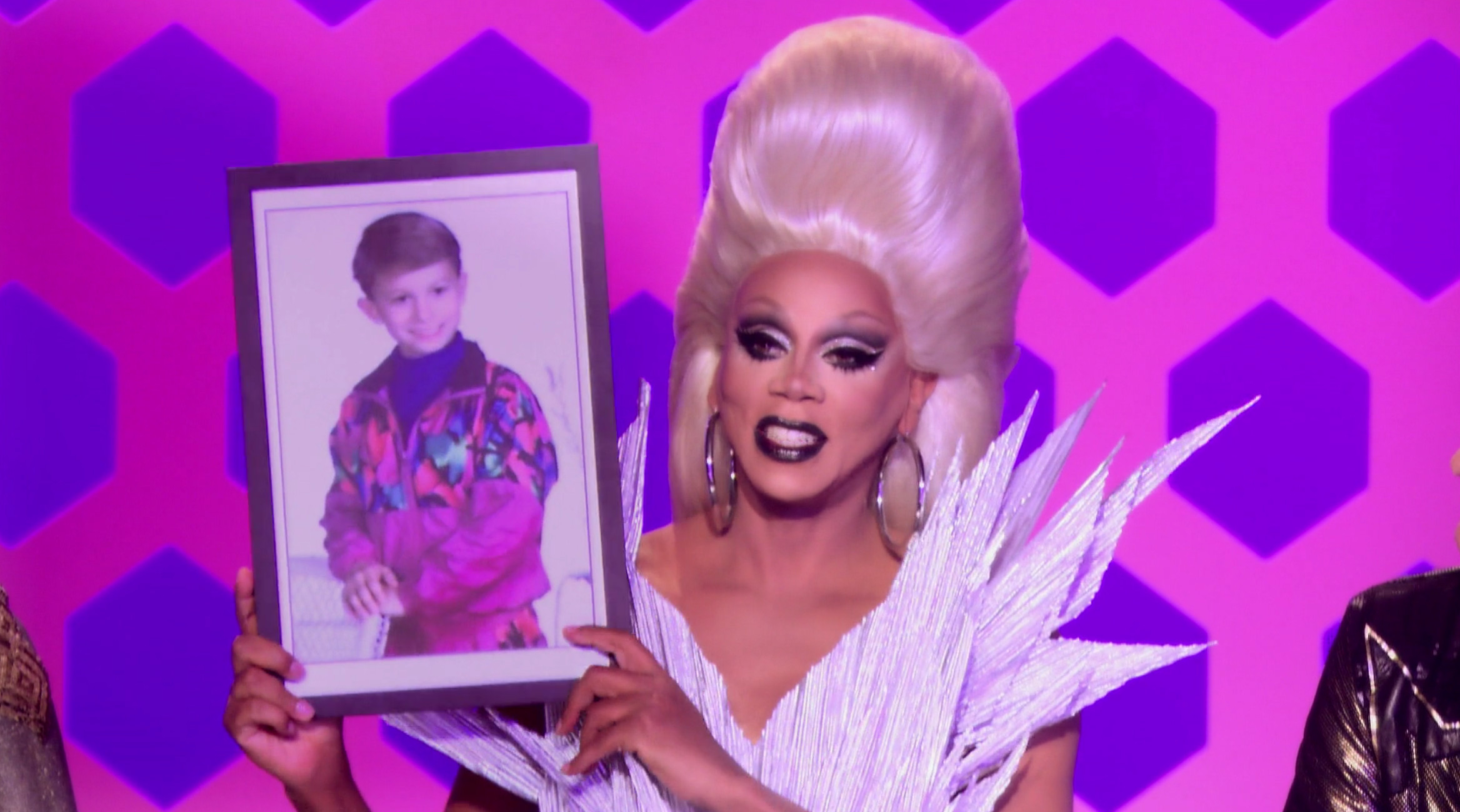 The queens all talk to photos of their gay little selves, making sure those little twinks know not to give up and to follow their dreams. If the track suit doesn 't make it obvious, above is young Trinity Taylor. This week, all four queens made a solid statement on why they should win, which means they go into our final LS4YL on fairly equal footing. These final lip syncs are never all that informative 'at this point, every queen can dance and serve attitude and learn the lyrics, so the decision of who to send home feels a bit pre-ordained. But this year, Ru throws the whole thing for a loop as '
16. No Queen Goes Home
For the first time, Ru decides all the queens should stay, making for a Top Four finale. And (Cheryl Lynn 's) to be real, I don 't mind. Though I still think this season is Shea 's to lose, this foursome is a dynamic one, representing four fun and varied takes on drag, so it 'll be fun to see them all duke it out for that hundo K. Next week, Drag Race is doing a reunion episode, then the week after is the live-to-tape finale. The internet is aflutter with some shenanigans that are going down for the final episode, so tune in for what sounds like some truly stunning new advents in Ru Paul 's Drag Race technology. Til then, homos!