By: WWE Recaps
The 17 Announcer Tables That Were Destroyed at WWE "Summerslam" 2017
CITY: Brooklyn, NY
VENUE: Barclays Center
ATTENDANCE: 469,392
It 's the granddaddy summer mistress of them all – SummerSlam!
WWE crams six hours of programming into a six hour event, four of which are the actual event itself. This is the story of those four hours. Those four long, exhausting hours.
---
1) John Cena vs. Baron Corbin
Cena starts the match by shit-talking Corbin over and over. Don 't be a bully, be a star John.
SHOOK. pic.twitter.com/3VQSsE6npA

' TDE Wrestling (@totaldivaseps) August 20, 2017
Corbin dominates the match early until the crowd chants "Where 's your briefcase? ' Cena gains the upper hand until Corbin launches him in the air into a backbracker with *his* upper hand.
Chokeslam + Backbreaker = More pain than you can imagine… #SummerSlam @BaronCorbinWWE @JohnCena pic.twitter.com/ZOu9ieTQYs

' WWE (@WWE) August 20, 2017
After eating a Deep Six, Cena powers up, drops Corbin with a massive cloethesline, then an Attitude Adjustment finishes off the Lone Wolf.
After that match with @JohnCena we might have to call him Buried Corbin #SummerSlam

' Matt Little (@themattlittle) August 20, 2017
Cena thanks Michael Che at ringside for his support and runs off to Make A Wish.
2) Smackdown Women 's Championship Match – Natalya vs. Naomi '
Natalya won a #1 Contender 's match at Battleground and here we are. Wow, that 's some pretty straightforward storytelling. Great job WWE!
After we return from Predator Mode Natty takes the over, keeping Naomi on the ground, picking her up only for quick power moves.
Blocks have been busted! pic.twitter.com/W3FmrZ43ys

' TDE Wrestling (@totaldivaseps) August 20, 2017
Meanwhile backstage, Carmella and The Michael Jordan of Sports Entertainment (aka James Ellsworth) watch on a monitor from the comfort of Ellsworth 's hoodie.
Naomi finally turns it around with some fast, wild offense but Natalya 's power is too much. She locks Naomi in the Sharpshooter. Before the Canadian can lock it in Naomi reverses it into the buckle. The Queen of Glow attempts a comeback but Natalya, again, was too strong. She cinches in a Sharpshooter in the middle of the ring and Naomi taps.
3) New Champ?
New champ.
4) Idiot In A Shark Cage Match – Big Cass vs. Big Show (Enzo Amore in a shark cage above the ring)
Enzo has a type – guys named "Big. ' After Big Cass broke up with Amore the lil ' guy started Amore'ing Big Show. His big mouth convinced Big Show to come out and fight his battle for him. Now he 's gonna hang above the ring and yell at his new and his ex while they fight over him. Er, under him.
On Monday the Good Brothers smashed Big Show 's Knockout Punch hand, immobilizing his secret weapon. Well he be able to summon the Iron Fist with that injury?
Enzo is out first, dressed like he shops on r/fashionreps. He proceeds to talk for eight hours until Cass 's music cuts him off and the ref shoves him in the cage.
Once the match starts the big men hoss it out until Show goes for a Knockout Punch. It 's not as effective because injury!
Cass does a job on Show 's hand instead of the other way around.
Enzo jumps up and down in the cage grunting and yelping, as adults tend to do. Below, Cass is all over the veteran Big Show.
Enzo strips down, oils himself up, and squeezes through the bars. It looks like it will lead to something. It does – it leads to a boot to Enzo 's skull.
Cass finishes off Show with an Empire Elbow.
That was definitely a match.
5) Randy Orton vs. Rusev
After Orton finally got to do a snek over Jinder, Rusev took out the Viper as Smackdown Live went off the air. Orton was furious and wanted revenge; only HE is allowed to Outta Nowhere someone!
Orton is snekkin ' it up on the turnbuckle when Rusev OUTTA NOWHERE attacks Orton.
Chase dem sneks, Rusev!
Once the bell rings, Rusev rushes Orton who RKOs the Bulgarian OUTTA NOWHERE. Annnnnnd the match is over before I finished typing this sentence.
Yes, that 's it.
6) General Manager Meeting
' TDE Wrestling (@totaldivaseps) August 21, 2017
7) Raw Women 's Championship Match – Sasha Banks vs. Alexa Bliss '
Bayley was injured and had to abandon her opportunity to fight for this title, leading to Sasha and Nia Jax squaring off for this match. Guess who won that one? If you guessed Nia Jax you aren 't paying attention.
Bliss and Banks go right at it, leaning in on those punches kinda hard. Did you know they don 't like each other?
Bliss works over Banks with RUTHLESS AGGRESSION.
Sasha's doing fine, just ask @AlexaBliss_WWE. pic.twitter.com/lmaJquevxF

' TDE Wrestling (@totaldivaseps) August 21, 2017
Seriously, they are beating the dog fluid out of each other.
Not THIS time, @AlexaBliss_WWE! What a show of strength by @SashaBanksWWE… #SummerSlam pic.twitter.com/3qZWL1WKHD

' WWE (@WWE) August 21, 2017
Bliss goes up top for Twisted Bliss but only gets a twooooooo.
TWISTED BLISS by @AlexaBliss_WWE! What's even more twisted? @SashaBanksWWE KICKED OUT! #SummerSlam pic.twitter.com/XBChMnY8fz

' WWE Universe (@WWEUniverse) August 21, 2017
Alexa has a fit! Sasha takes advantage, locking in the Bank Statement and trying to wrench Alexa 's head off her neck. Did you know they don 't like each other?
Bliss taps pretty quickly and is like "get this maniac off me before I start biting her. '
We have a new champ!
8) New Champ?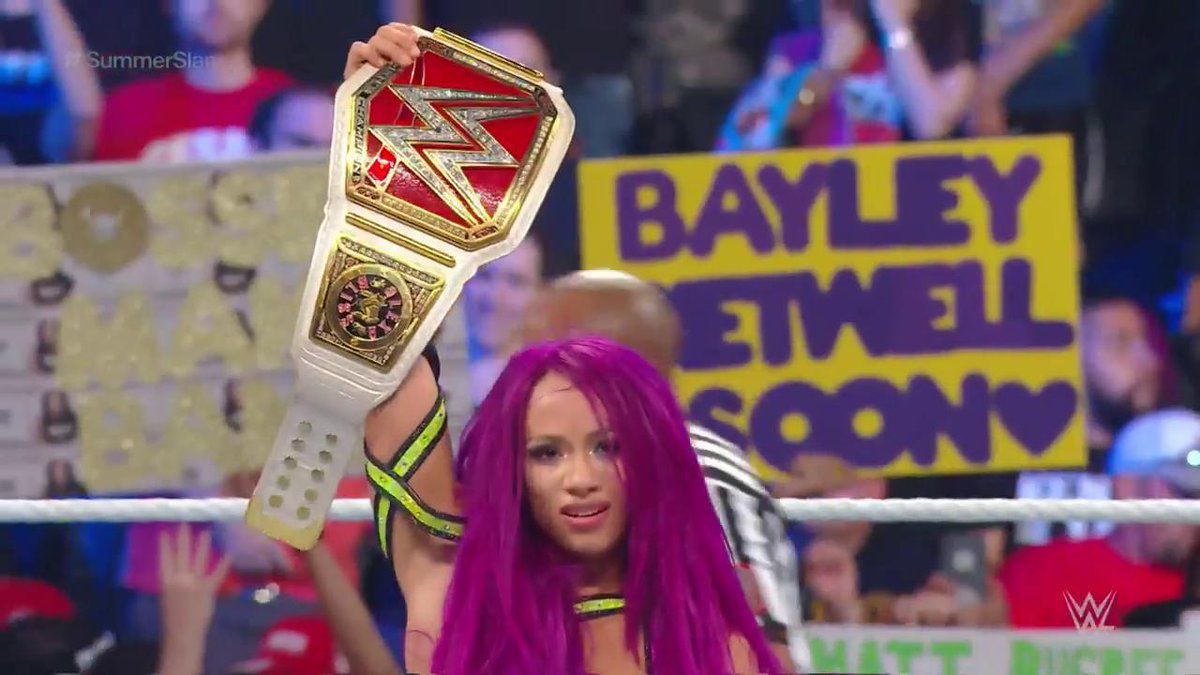 I JUST said that.
BONUS) HBKFC
Colonel Sanders showed up to SummerSlam to make sure all the Superstars ate a nice meal before their matches. pic.twitter.com/kFXyJKwGeY

' KFC (@kfc) August 21, 2017
9) Bray Wyatt vs. Finn Balor
These two weirdos have been weirding on each other for a while. Wyatt finally pushed Finn too far this past week, spilling pig 's fluid all over him. Now, after a year out of the hairsnakes, Finn is ready to summon the DEMON once again.
Also, just call it blood. Pig 's fluid is 'yick.
Bray watches this like "oops I made a goof with this good boy ' and Balor is all over the Eater of Worlds.
In case you had any doubts… YES, #TheDemon can FLY! #SummerSlam @FinnBalor pic.twitter.com/5xKsdTzMoz

' WWE Universe (@WWEUniverse) August 21, 2017
He 's really all over Bray. Like, I 'm not sure if Bray knows he 's allowed to fight back?
Oh okay, Bray finally takes advantage with a sweet Dirtbag Slam and some power moves that slows down the pace.
Bray goes up top and Finn uses his stored Comeback to regain the upper hand. A Sling Blade, a missile dropkick, and a Coup De Gras later, and the Demon King wins the match.
Finn celebrates by humping the ground.
10) Raw Tag Team Championship – The 'ield (Dean Ambrose & Seth Rollins) vs. The Bar (Sheamus & Cesaro)
Cesaro and Sheamus beat Rollins and Jeans Ambrose up separately, then together. They beat them up so hard that these two people who hate each other decided to love each other again in order to seek revenge.
So Cesaro and Sheamus are either that good at fighting or that shitty of people.
Oh look they have matching butts tonight!
Ambrose and Rollins try to for quick and agile but Cesaro and Sheamus are just too powerful. They catch Rollins out of the air and launch him.
The #RAW #TagTeamChampions @WWECesaro & @WWESheamus reminding @WWERollins why they are #TheBar! #SummerSlam pic.twitter.com/1m1vOk8vHw

' WWE Universe (@WWEUniverse) August 21, 2017
The action is great and then some BROOKLYN GOONS START THE BEACHBALL SHIT AGAIN.
Floor seats were $500 before this show. These people paid $500 to throw a beach ball around.
Cesaro agrees because:
#SwissCyborg @WWECesaro is not amused, @WWEUniverse… #SummerSlam pic.twitter.com/MjOYs4wjtU

' WWE (@WWE) August 21, 2017
Cesaro is the hero we need, but don 't deserve.
These four are moving so fast and hitting so hard that it 's hard to keep up. They 're all better tag team performers than most tag teams in WWE. Ambrose and Rollins lose the advantage when they try a Shield powerbomb but fail. Guess the real power behind the Shield was Roman after all.
There 's a ton of tandem power moves from Sheasaro including a Doomsday Device, a double crucifix, and then some White Noi 'oh no!
What the what! pic.twitter.com/uGbaWaHzDB

' TDE Wrestling (@totaldivaseps) August 21, 2017
Rollins inside with rapid fire offense! Down goes Cesaro! Rain Trigger on Sheamus! Dirty Deeds on Sheamus! Everybody Get Sheamus!
1! 2! 3! The 'ield wins!
11) New Champs?
Let's be friends! pic.twitter.com/Q6D5poS6c7

' TDE Wrestling (@totaldivaseps) August 21, 2017
New champs.
12) United States Championship Match – Kevin Owens vs. AJ Styles (w/guest referee Shane McMahon)
Kevin Owens got so sick of being screwed by refs in his title matches with AJ Styles this summer. Shane got so sick of his bitching he offered to be the special referee for this match. Expect the official to get hit a lot here. If anywhere that 's where we should tell kids not to try this at home.
These two just assault each other for a good while. Observe:
#USChampion @AJStylesOrg knows how to use EVERY part of the ring to his advantage… #SummerSlam #USTitle pic.twitter.com/eGXJeiRLDv

' WWE (@WWE) August 21, 2017
Then suddenly: ref bump! Shane can 't do anything without falling over. What 's he like making coffee in the morning?
While Shane is down Owens hands out a PoppaPowabomb but only gets two. Owens gets in Shane 's face and yells:
Hard to argue with @FightOwensFight on this one. pic.twitter.com/Hf5CoP7xV1

' TDE Wrestling (@totaldivaseps) August 21, 2017
ANOTHER ref bump leads to AJ locking in the Calf Crusher. Owens taps but Shane O ' is Out O ' the ring. AJ gets in his face about it and almost gets rolled up.
AJ takes Kevin up top for a power bomb but Kevin reverses into a top rope suplex:
THIS just blew @shanemcmahon's MIND! #SummerSlam #USTitle @FightOwensFight pic.twitter.com/9i0z0Kfmoo

' WWE (@WWE) August 21, 2017
The action gets nuts and leads to a Styles Clash but Kevin kicks out and sets up a PoppaPowabomb. Shane counts three but AJ 's foot was on the rope! He calls off the pin and Kevin is furious. They trade blows which leads to AJ getting a Pele Kick and Styles Clash and a win!
The story of this match? Shane is a bad ref.
13) Still Champ?
Still champ.
14) WWE World Championship Match – Shinsuke Nakamura vs. Jinder Mahal '
Shinsuke fought his way all the way up from his entrance to become the number one contender for Jinder 's title. That 's it! That 's 'not a lot of build for a championship match.
Violin Bro is out to introduce Swagsuke so you know this is serious.
Jinder 's Intro Bros are out too; we 're ready for a battle for the richest prize in the game. Except for the other one.
Jinder bails from the ring as Shinsuke activates his penis taunt.
Shinsuke counters anything Jinder throws at him. Jinder 's old school powercoward style can 't fool the King of Strong Style.
Oops! Spoke too soon – the Singh Brothers distract Nakumura long enough for Jinder to hit a Khallas for the 1-2-3. Brooklyn CANNOT believe it. The entrances lasted longer than the match?