By: Darren Miller
Jimmy Butler Is Living All Our Work Rage Fantasies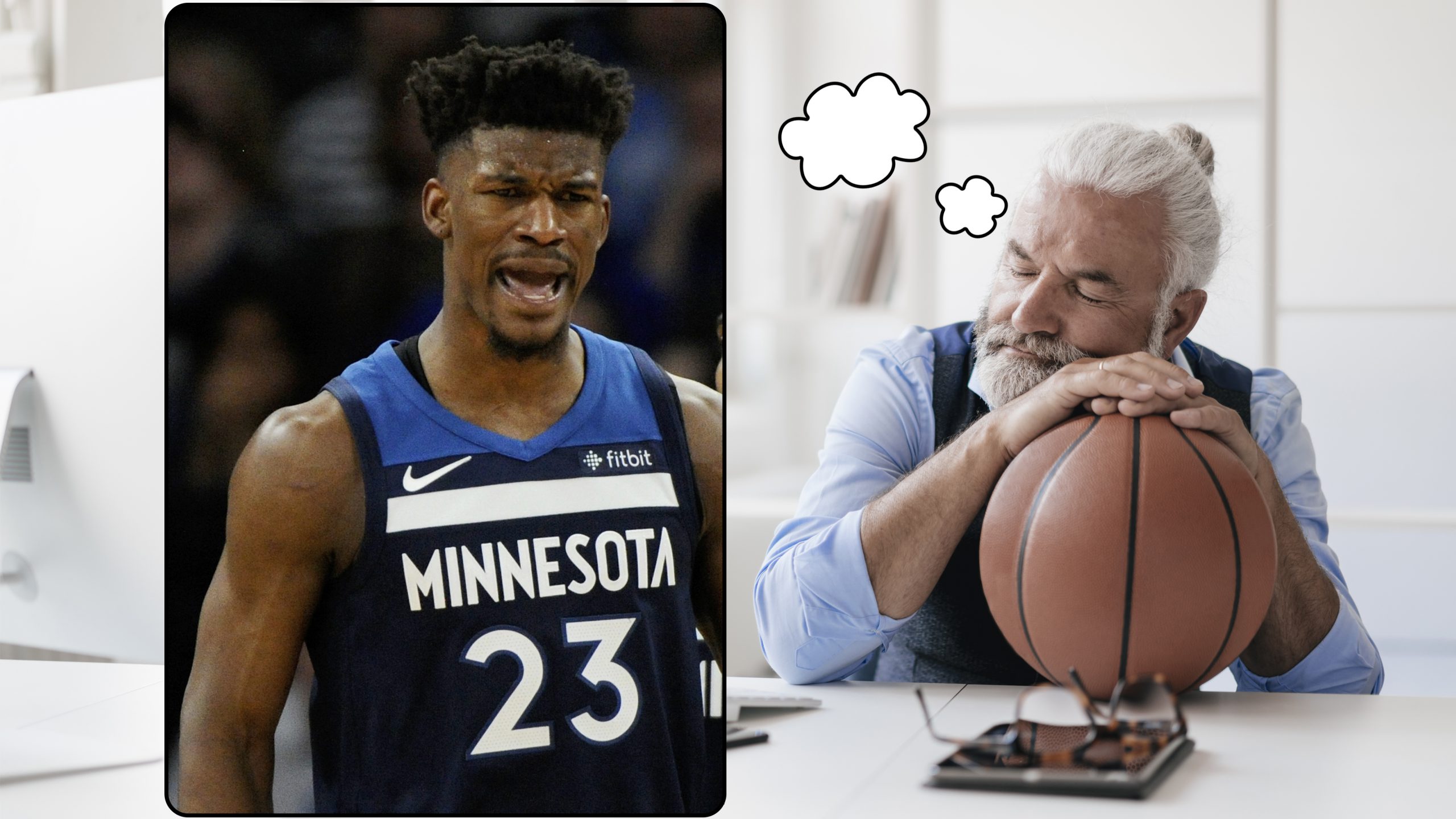 We all have the same work rage fantasies, and NBA star Jimmy Butler is no different – except for the fact that he 's actually following through on all of them, all at once. And it 's beautiful.
You don 't need to be a basketball fan to get this story, but here 's the background: NBA star Jimmy Butler helped the Timberwolves break a 14-season playoff drought in his first season with them last year, then asked to be traded. He was not shy about it.
The team has tried to convince him to play out this next season with the team, cause well, he 's really, really good (see above). But his frustration has officially peaked, and shit has hit the fan.
On Wednesday, Jimmy Butler embarrassed the entire team by beating the starters with 2nd and 3rd string bench players, while trash talking the whole team and entire organization. Then he immediately sat down for a brutally honest interview on ESPN:
The point is, he 's just like anyone else who can 't take this work shit anymore. And he 's doing everything we wished we had the guts to do but don 't, cause, well, if we 're being honest, we 're not millionaires who can afford the risk.
But he can, so here 's a rundown of him sailing through the list, fantasy by fantasy:
Proving you 're better than everyone else here
It 's not every day that practice antics make national news, let alone local news. This is a team practice DURING THE PRESEASON. I cannot emphasize enough that THERE WAS NO REASON FOR ANYONE TO CARE ABOUT THIS DAY. Until Jimmy Butler uncorked himself.
Video of this Jimmy Butler practice should be more sought out than the lost footage of that epic Dream Team scrimmage. https://t.co/T7GcmtpPwT

' Fred Katz (@FredKatz) October 10, 2018
So this is what happens when someone gets angry and is good enough to back it up.
Jimmy Butler showing up to practice today like pic.twitter.com/f2eCjtKZDU

' Sports Illustrated (@SInow) October 10, 2018
"Exclusive" footage of Jimmy Butler returning to Timberwolves practice: pic.twitter.com/b4OT2ZU5BF

' CBS Sports (@CBSSports) October 10, 2018
Calling out your co-workers
Apparently he had no problem focusing on winning this insanely lopsided matchup while calling out everyone else he was in the process of beating, reportedly shouting "You f ' 'ng need me! ' and "You can 't win without me! '
Oh, and also trolled everyone else in the organization:
Jimmy Butler yelled to the VP of Marketing "get me a salad for lunch. Balsamic vinaigrette!" and then dropped a 3 over Wiggins. This guy is incredible. #wolves

' Pat Gallen (@PatGallenCBS3) October 10, 2018
I mean, the guy is healthy. That 's a healthy lunch.
if jimmy butler really showed up, cussed everybody out, beat the starters with the third string squad & mobbed out we really gotta consider this among the all time great power moves

' A West (@ayyy_west) October 10, 2018
Jimmy Butler at Wolves practice today pic.twitter.com/vVXLWJz6c6

' Sam Vecenie (@Sam_Vecenie) October 10, 2018
EXCLUSIVE! Leaked video of Jimmy Butler at Timberwolves practice today pic.twitter.com/gnzThXEPU8

' Yahoo Sports (@YahooSports) October 11, 2018
Calling out "the system '
At this point, you may be thinking "hang on, how 'd he end up on ESPN that quickly? ' Good question. This dude had A PLAN:
Jimmy Butler was so confident he was gonna destroy his teammates, he called Rachel Nichols to come interview him post-practice. What an unbelievable flex.

' Tom Westerholm (@Tom_NBA) October 10, 2018
He 's not just trying to win practice, he 's taking down the whole system.
Nichols: 'Is it fixable?
Butler: 'It could be. It could be. But do I think so? No. Because you got to be honest. I 'm being honest. Do I think so? No. I 'm being honest with you. But is everybody gonna be honest? No. No, everybody 's not gonna be honest.
This is all truly inspirational. Most of us can 't burn the whole thing down, but at least we can live vicariously through this superstar basketball player and human being. Thank you, Jimmy Butler.
---
Jimmy Butler & Miles Brown Have A Freaky Friday
We use cookies to optimize our website and our service.
Functional

Always active

The technical storage or access is strictly necessary for the legitimate purpose of enabling the use of a specific service explicitly requested by the subscriber or user, or for the sole purpose of carrying out the transmission of a communication over an electronic communications network.
Preferences

The technical storage or access is necessary for the legitimate purpose of storing preferences that are not requested by the subscriber or user.
Statistics

The technical storage or access that is used exclusively for statistical purposes.

The technical storage or access that is used exclusively for anonymous statistical purposes. Without a subpoena, voluntary compliance on the part of your Internet Service Provider, or additional records from a third party, information stored or retrieved for this purpose alone cannot usually be used to identify you.
Marketing

The technical storage or access is required to create user profiles to send advertising, or to track the user on a website or across several websites for similar marketing purposes.