By: Kelci Grammar
This Tiny Dog Chased A Google Maps Camera And Ended Up In Every Shot
Google Maps has improved by leaps and bounds over the years. It 's gone from a simple navigational tool to a cool and ultimately useless way to pass the time while you 're bored at work, thanks to the function called "Street View. ' This function does exactly what its name implies: you drag and drop a little yellow dude onto a space on the map, and it zooms you in and allows you to look around as if you were standing on the street. It 's a neat way to see different parts of the world and also look at the front of your crush 's house when you 're in 10th grade (what? Who would do that? Not me….)
But in order for street view to be possible, someone from Google has to be down on the ground taking these photos ' and when you 're driving around town snapping pictures of literally every block, you 're bound to see some weird happenings.
Like this,
How badly do you want this backstory?
Some of them are equally odd, but, erm, a little more messed up
Just casually hangin ' with the boys, you know how it is.
---
Recently though, an employee from Google was driving around in one of their company cars equipped with a 360 degree camera, and, along with updated footage for Google Maps, they grabbed the attention of one curious little fluff ball.
The car must have been particularly exciting because he was STOKED ABOUT IT.
So stoked in fact, he decided he needed to chase the car.
For, like, A WHILE.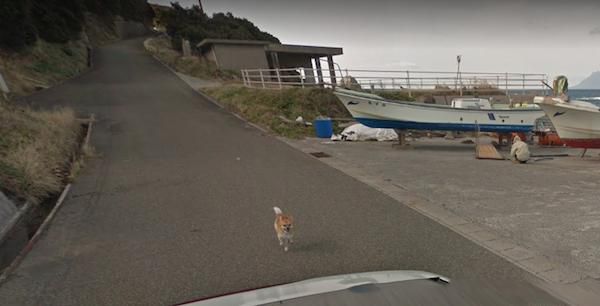 It makes you wonder… What was it about the car that made him so excited? Maybe he recognized that it was from Google…
"EXCUSE ME SIR CAN YOU PLEASE SLOW DOWN? SIR ARE YOU HIRING AT GOOGLE? PLEASE SIR HELLO '
It even looks like the car took a pretty sharp turn to try and throw him off but to no avail.
I have no proof to back this but ' I imagine he Tokyo drifted and recovered pretty quickly to stay on the chase.
Ok, but how did he manage to actually GAIN ON THIS CAR? THIS DOG IS LIKE, THE SIZE OF A TOASTER.
And then this happened:
This was the last photo taken before the dog entered warp drive. Legend has it he 's still chasing Google cars around the fifth dimension and still fluffy af.