By: Sloane Hughes
Check Out The 'Top Gun: Maverick ' Trailer And Get Ready To Get Amped
I have good news and I have even better news. The good news is it 's Friday, and the better news is earlier this week, we all got to take a first look at the upcoming Top Gun sequel. THAT 'S RIGHT FOLKS. Thirty-three years after the first movie, we 'll finally get another one. Tom Cruise surprised fans at Comic-Con with the trailer, and now the first official trailer is available for everyone to see!
HELL YEAH
ARE YOU PUMPED? BECAUSE I 'M PUMPED. Maverick won 't hit theaters until 2020, but in the meantime let 's all carry this excitement through the next couple days and ring in the weekend in the best way possible ' with some Top Gun gifs. In other words,
High fives, killer sunglasses, and beach volleyball.
---
---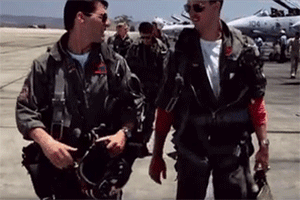 ---
---
---
---
---
---
---
---
---