By: Sloane Hughes
You Need Chicken Socks. I Need Chicken Socks. We All Need Chicken Socks
Halloween is around the corner and what 's always the hardest thing about this holiday? Figuring out a damn costume. It seems like most of us will have moments of, "Oh man that would be a really great Halloween costume! ' throughout the year, but then as soon as September hits, we all completely blank and end up scrambling last minute, scouring the near-empty aisles of Spirit Halloween. Which is just so, so depressing.
So avoid all of that last minute nonsense! Get the jump on Halloween! And do it in a very easy, low effort way.
Please, allow yourself to bask in the glory that is:
CHICKEN LEG SOCKS.
These babies are only like 8 buck-buck-bucks (I 'm so sorry) on Amazon and I literally have never laughed so hard looking through photos of socks in my life. They may not look like a lot, but they legitimately, hand to God, make your legs look like a chicken 's and it is so. freaking. funny.
LIKE… IT 'S PERFECT.
PLUS, even after Halloween, you can just wear them around the house!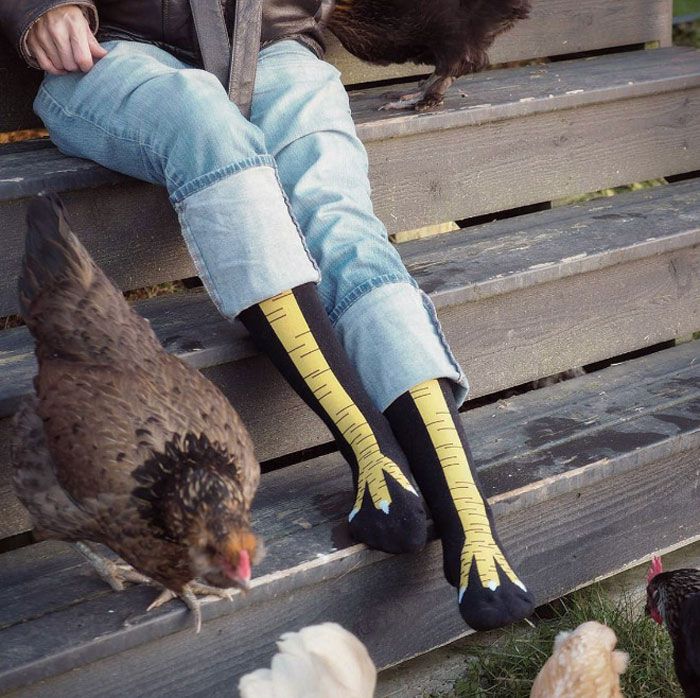 Or how about at the gym?!
The description on the site also says they 're good for the beach(?!) and I don 't know how much I believe that but hey, give it a go.