By: Ron Burgundy
Article by Sloane Hughes
Ron Burgundy Talks Feminism With Gloria Steinem
---
---
Instead of a regular intro to this episode, Ron decides to try and start things off Charlie 's Angels style, but as Carolina is quick to point out, legally they 're not allowed to do that. Which would be kind of a bummer, but it 's fine because today 's episode is still about a feminist icon: Gloria Steinem.
Before bringing Gloria on the line, Carolina helps Ron brush up on a few terms. Things like the patriarchy, misogyny and what that actually means, and how to actually pronounce misogyny. Once Ron 's up to date with all this lingo (but admittedly not the pronunciations) Ron welcomes Gloria to the podcast with a classic greeting, WAZZAAAAAAP??
American journalist and activist Gloria Steinem has had an incredibly illustrious life and career, and one of the notable stops along the way was her time at Smith College. Ron wonders, in today 's world full of AI and robots, is there any value in a liberal arts education? Gloria not only believes that yes there absolutely is, but also because of all our devices and the way the world currently is, a liberal arts education could be more important now than ever before.
After college, what was Gloria 's experience like studying abroad in India? How did it change her? Would she describe it as "the craziest spring break ever ' or is Ron totally off-base? And speaking of life changing experiences, what was it like to go undercover in the Playboy Mansion? Ron also spent some time at the Playboy Mansion, but he wasn 't undercover the valet just lost his car, so he more or less ended up stuck there.
As well as detailing her past in journalism, Gloria also talks politics, and clears up what her beef with Bernie Sanders during his 2016 election campaign was actually about. Ron asks who she 's excited about politically, and although she (along with everyone else) thinks pretty much anyone would be a better president than 45, she doesn 't think the next POTUS should be The Rock or Kanye. '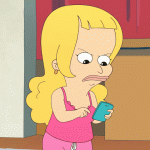 If you 're still confused about what feminism actually means and what the goals of the movement are, there 's no one better to get an explanation from than Gloria Steinem. And if you 're just curious about what kind of TV shows she 's into these days, you 're sure to enjoy this episode too.
---
New episodes of "The Ron Burgundy Podcast ' drop every Thursday. Check out all the available episodes of "The Ron Burgundy Podcast ' on 'Apple Podcasts 'and 'iHeartRadio 'now.