By: Sloane Hughes
Five Of The Best Moments From The Golden Globes
This past Sunday marked the 77th Golden Globe Awards ceremony to honor the very best of film and television in 2019, and oh man it was an eventful one. Here are five moments from the night that made us cheer especially loud, or get a little more choked up than we 'd like to admit.
The full list of nominees and winners can be found here.
---
Brad Pitt addressing that moment in Titanic
Last night Brad walked away with the Golden Globe for Best Supporting Actor for his role in Once Upon A Time In Hollywood, and he took his acceptance speech as an opportunity to tell his "partner in crime ' Leonardo Di Caprio what we 've all been thinking since 1997 '
THANK YOU.
---
Kate McKinnon 's tribute to Ellen DeGeneres
Ellen DeGeneres received the Carol Burnett Award for Achievement in Television for "outstanding contributions to television on or off the screen. ' She was presented with the award by Kate McKinnon who is usually known for hilarious impressions that have us in tears, but last night it was her incredibly touching words that ensured there was not a dry eye in the house.
---
Elton John 's next level excitement
Another winner of the night was Taron Egerton, who took home the Golden Globe for Best Actor in a Musical or Comedy for his starring role in Rocketman, the Elton John biopic which he himself produced. Taron and Elton became close through the production of the film, Elton even gave Taron the first pair of diamond earrings he ever owned as a gift, and literally no one, not even Taron, was more excited about his big win than Elton.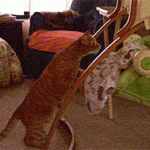 This is the kind of support we all need from our friends.
---
Awkwafina 's win
This was the first year that the New York native had ever attended the Golden Globes, and comedian Awkwafina walked away a winner. But receiving the award for Best Actress in a Musical or Comedy for her role in The Farewell is more than just a huge moment for her, it 's a huge moment in history ' this marks the first time ever that a woman of Asian descent has won in his category.
---
Tom Hanks ' tear-jerker speech
The Cecil B. DeMille award is presented to someone who has made "outstanding contributions to the world of entertainment, ' and the winner of this year 's award was the man, the myth, the wholesome-as-all-hell legend, Tom Hanks. And in a fashion as genuine, fatherly, and infuriatingly heartwarming as you 'd expect, (stop making me cry, Tom!!) his thank-you speech was one of the number one highlights of the night.
---