By: Amanda Cerny
Article by Kat Curtis
How To Be A Jerk To Your Family w/ Amanda Cerny (Lesson 3)
---
Remember that girl from high school that purposely (and gleefully) gave her female classmates eating disorders? Or that coworker who keeps getting promotions over you because she 's a dirty stinking rat?
Well she 's BACK and here to share ALL OF HER SECRETS on how to be a successful jerk to the ones you "love ' the most – YOUR FAMILY!
---
HOW TO BE A JERK TO A BABY
There 's actually no way to be a jerk to a baby. If you 're not good to a baby, you overshoot jerk and hit pure cruelty. The important thing to do at this stage is to really miss the mark on their name.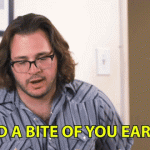 ---
HOW TO BE A JERK TO A TODDLER
Address them with sarcasm and jokes only you understand. You 're hilarious and they have no idea, which makes it even funnier.
Also, this is a great time to just make up because they 'll believe anything you say.
---
HOW TO BE A JERK TO A TEENAGER
Embarrass them in front of their friends – and take a ton of photos! Also – make sure your lame jokes should be really uncomfortable too.
---
HOW TO BE A JERK TO YOUR ADULT CHILD
Instead of insulting your child, go after the people they love the most! (For example: their significant other!)
You may not see your child 's partner very often, so when you do visit, you should start your passive aggressive critiques as soon as they open the door
---
HOW TO BE A JERK TO YOUR PARENTS
Tell your parents they were bad role models, point out their flaws, and if there were family tragedies, weaponize 'em.
---
CREDITS
Starring:
Amanda Cerny
Created by:
Darren Miller
Written by:
Darren Miller
Tamara Yajia
Directed by:
Eleanor Giblet
Executive Producers:
Darren Miller
Tamara Yajia
Producer:
Carly Reeve
Cast:
Amanda Cerny (Brie Summers)
Kate Hollowell (Jessica)
Sam Naismith (Blanford)
'Addie Weyrich '(Nanny)
Crew:
Michelle Akeley- 1st AD
Kevin Cardoni- Production Manager
Marla Black- Production Coordinator
Noa Skikne- Production Assistant
Anna Asher- Script Supervisor
Arlene Muller- Director of Photography
Kalea Calloway- Camera Operator
Minami Moriyama- 1st Assistant Camera
Moses Okunoren- Camera PA
Marizo Siller- Gaffer
Phil Gardner- Key Grip
Caitlin Williams- Production Designer
Ed Raines- Set Dresser
Layla Kornota- Prop Master
Samantha Crainich- Art PA
Wade Vanover- Construction
Jessica Leigh Schwartz- Hair & Make Up Artist
Alison Holmes- Costumer
Nial Morgan- Sound Mixer
Jen Freeman- COVID-19 Compliance Officer
Joshua Rathmell- Editor
Andrew Jewell – Keying Editor
Bryan Weider- Animator & Graphics
Paul Smith- Animator & Graphics
Kristopher Wile- Animator
Head of Physical Production, FOD- Jim Ziegler
Head of Post Production, FOD- Phil Loeb
Manager, Post Production, FOD- Cody Pereira