By: Amanda Cerny
Article by Kat Curtis
How To Be A Jerk When You Travel w/ Amanda Cerny (Lesson 5)
---
Traveling sucks because you are forced to deal (and corporate) with other people.
HOWEVER, today 's lesson from the publically-canceled-16-times Brie Summers ISN 'T about how to be a good co-traveler (because where 's the fun in that!?), it 's about how to be the worst commuter because you thrive off other people 's misery.
---
HOW TO BE A JERK IN A HOTEL
Hotels are a jerk 's paradise. You pay for one small room in a giant building full of many people, and you 're entitled to act like it 's your own personal mansion. Be sure to trash your room and be as loud as possible. Remember: since you paid for the space, you 're entitled to do whatever you want.
---
HOW TO BE A JERK IN TRAFFIC
Make your daily commute more fun for you (and more miserable for everyone else!) by being on your phone while you drive. Did the light just turn green? Don 't accelerate – first finish your text and then slowly continue your drive. Need to switch lanes? Don 't bother with a turn signal – other drivers will figure out what to do when they see you unexpectedly swerve into their lane!
---
HOW TO BE A JERK ON AN AIRPLANE
Now, for the most fun place on Earth to be a jerk, 35,000 feet above it. If hotels are a jerk 's paradise, airplanes are a jerk 's jungle gym. It 's a great place for us to play around, try stuff out, and make other kids cry. If you like to vape – don 't let your airline 's prohibitory policy stop you from enjoying your mango vape! Create a secret fort under your sweatshirt, so everyone knows what you 're doing, but no one can legally prove it. Be sure to drink a lot before getting on the plane. Water 's the easiest way to guarantee you 'll have to constantly climb over the person next to you.
When it comes to choosing your liquids on a flight, alcohol fun, but caffeine makes you more chatty, so be sure to drink BOTH so you can force your neighbor into a one-sided conversation the entire flight. Weeeee!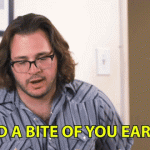 ---
CREDITS
Starring:
Amanda Cerny
Created by:
Darren Miller
Written by:
Darren Miller
Tamara Yajia
Directed by:
Eleanor Giblet
Executive Producers:
Darren Miller
Tamara Yajia
Producer:
Carly Reeve
Cast:
Amanda Cerny (Brie Summers)
Jonathan Braylock (Hugo)
Addie Weyrich (Flight Attendant)
Moses Okunoren (Plane Passenger)
Carly Reeve (Plane Passenger)
Crew:
Michelle Akeley- 1st AD
Kevin Cardoni- Production Manager
Marla Black- Production Coordinator
Noa Skikne- Production Assistant
Anna Asher- Script Supervisor
Arlene Muller- Director of Photography
Kalea Calloway- Camera Operator
Minami Moriyama- 1st Assistant Camera
Moses Okunoren- Camera PA
Marizo Siller- Gaffer
Phil Gardner- Key Grip
Caitlin Williams- Production Designer
Ed Raines- Set Dresser
Layla Kornota- Prop Master
Samantha Crainich- Art PA
Wade Vanover- Construction
Jessica Leigh Schwartz- Hair & Make Up Artist
Alison Holmes- Costumer
Nial Morgan- Sound Mixer
Jen Freeman- COVID-19 Compliance Officer
Joshua Rathmell- Editor
Andrew Jewell – Keying Editor
Bryan Weider- Animator & Graphics
Paul Smith- Animator & Graphics
Kristopher Wile- Animator
Head of Physical Production, FOD- Jim Ziegler
Head of Post Production, FOD- Phil Loeb
Manager, Post Production, FOD- Cody Pereira