The classic children 's pastime Cowboys and Indians takes a troubling modern turn.
When a black man in America dares to enjoy an ice cream cone on his lawn, a cop arrives to quickly escalate the situation. Starring Phil Augusta Jackson Ryan Stanger and Colton Dunn Produced By Colton Dunn, Phil Augusta Jackson and Matt Chapman Directed by Matt Chapman (@chapmattman) Written by Phil Augusta Jackson and Colton Dunn Sound Emmet Casey Grips James Croak Jim Carlson Costumes and Props Jenny Fine Erin Pierce Chris Korn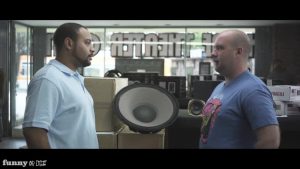 A deleted scene from the short film "The Big Dog" where Ron goes shopping for new speakers for his car.
End of content
End of content