A video about the little red hairs on weed. happy 4/20!
Zerofriends' writer-director Stephen Reedy and Zerofriends' artist Alex Pardee decide to discard their medication and throw up their dukes against racial inequality, and they battle the issue in the only way they know how: Fighting fire with fire, you ask? Nope, fire is too hot and burns them, and they are fragile little creatures of mysticism. They instead, FIGHT ABSURDITY WITH ABSURDITY. Absurdly. Wrangling the rest of the Zerofriends Creative Collective to collaborate on this cause, they have used the two most powerful methods of communication…ENTERTAINMENT and FASHION…to support racial equality via the MALDEF (Mexican American Legal Defense & Educational Fund). The MALDEF, known for supporting civil liberties, is currently battling Arizona's Senate Bill 1070 (which legalizes blunt racial profiling and is as ridiculous as this video). Enjoy, and don't forget to visit Zerofriends.com to support this cause. All profits from the sales of the ALIENS VS. PREDATOR shirt featured in this video will be donated to MALDEF to help continue to battle Arizona's Senate Bill 1070. STOP PROFILING, YO!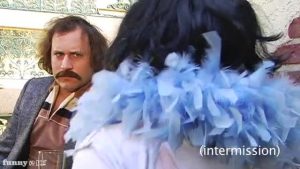 The untamed wild-man of German cinema searches for love in all the wrong places, with guest star, Icelandic nut-job Bj 'rk, in this 3rd episode of the WernerHerzogEatsTheWorld.com web series.
End of content
End of content